Against a backdrop of challenges for the government including a controversial U-turn on planning reforms and the rising energy price crisis, the Chancellor's spending plans for the next three years are being closely watched by those in the construction industry.
Rishi Sunak's Autumn Budget and Spending Review announced nearly £24bn in funding for the housing industry. Including affordable homes, working on brownfield land, and removing cladding from high-risk buildings. These policies and support are expected to help the UK economy as well as builders, renovators, and extenders in both domestic and commercial markets. However, it didn't answer some burning questions that the sector has been lobbying for answers to.
As the UK's need for affordable housing continues, and the government's plans to revitalise city centres with homes, offices, and retail units, there is a lot of opportunities for the construction industry to grow and bounce back after a tumultuous couple of years for the UK. Banner Box takes a look at how Large Format Print businesses can take advantage of these circumstances and offer their support for the construction sector.
Construction Site Essentials
It is estimated that up to 300,000 new homes per year are needed in England to tackle Britain's housing shortage. But even before COVID-19 pandemic, the increase achieved means that the government will not reach this target until 2032. As the demand for building increases, construction companies will become busier, and the number of sites seen for new housing development and renovations will inevitably rise too.
There is a range of large format print and signage solutions that are essential to the function and safety of a building site. Heras fencing is frequently used to connect and hide areas from view and is a cost-effective way to display logos and branding and display advertising. Ideal for outdoor locations and allowing air to move through the fabric without distorting the print, these single panels or continuous runs can quickly transform an unappealing view into a professional and attractive work site.
For a powerful and imaginative advertising choice, discover the versatility and multiple mounting options of advertising hoarding. From city centres to new build housing estates, customers can create an impactful scene with branded panels and large-scale graphics to surround the perimeter of construction and make sure it is noticed by passers-by.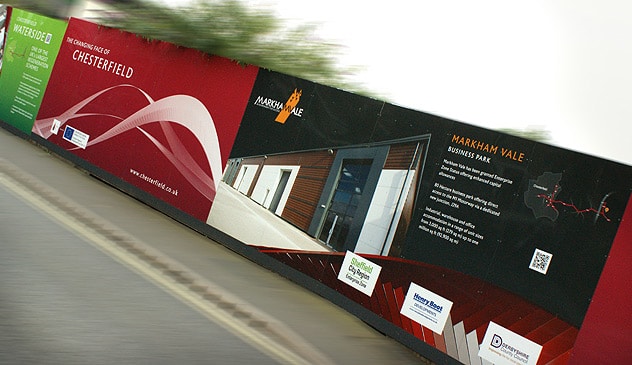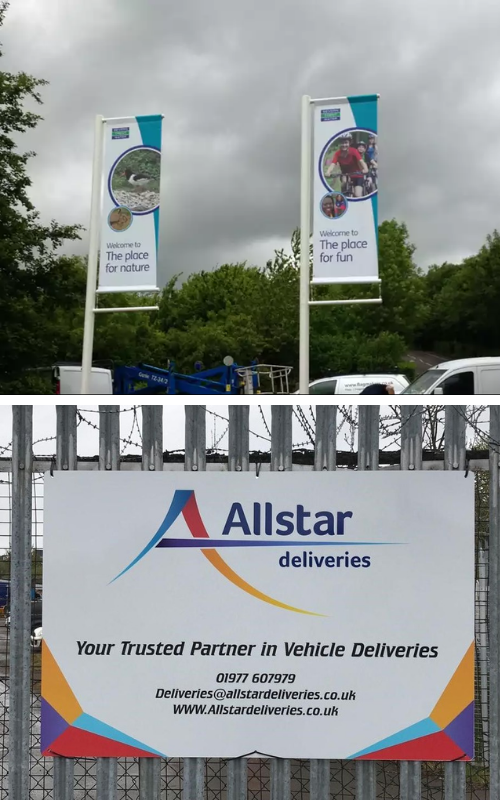 Boosting a Brand with Other Print Solutions
As the demand for affordable homes increases, construction organisations will soon find themselves in a very competitive market. And business owners and project managers should be aware of how using bespoke branding can make construction businesses stand out.
Luckily there are many print solutions that can help boost the brand and recognition of a construction project, no matter its size or location. Speak to Banner Box Print Solutions about the range of temporary, portable, or long-term signage solutions that will help your construction customers stand out from the crowd and can be fulfilled to premium quality in a quick turnaround time.
In addition to the vibrant imagery on branded fence products, development projects can benefit from the consistent and effective use of corporate flags. Printed onto UV stable knitted polyester to create durable and eye-catching displays that can frame the entrance to the site, adorn key locations throughout the place of activity, or give directions for visitors and members of staff.
Explore our growing plant list to see how our state-of-the-art machinery and 25,000 sq ft facility can provide the full print and hardware solution including post-mount and wall-mount systems, and custom-made hard signage to suit indoor and outdoor environments.
Bespoke artwork made to exact specifications that can be used for:
Showcasing renditions of the complete project
Contact information for interested buyers
Site maps and safety instructions
Corporate branding and advertising
Sustainable Print
Earlier this week, it was announced that a new alliance including Homes England has committed £175m to provide loan finance and expert support, enabling housebuilders to build high quality and energy-efficient homes throughout England.
As the topic of sustainability once again becomes a leading issue for businesses, now is the ideal chance to explore the range of eco-friendly alternatives that your print business can offer to construction companies. Not only can their new projects get government support for helping to meet green targets, but there are recyclable and environmentally friendly fabrics that can be just as strong, vibrant, and useful for signage and display needs. Why not offer your construction customers the chance to go green with their next print project to complement their latest eco-friendly building.
Get in touch with Banner Box to discuss the benefits and uses of Kavalan, Eco-Mesh, and how Banner Box are committed to more sustainable printing.
Speak to our expert sales team today and discover the must-have products and services that can assist your construction and building customers. We're happy to advise on everything from artwork to installation and help you to help your customers reach their potential and meet the demands of a sector that will grow and change a lot over the coming years. Call 01246 472949 or email [email protected]