Earlier this year, Banner Box Print Solutions made a commitment to provide more options in the way of sustainable materials and environmentally friendly business practises. In addition to the launch of our eco-mesh product in August 2020, Banner Box is delighted to introduce Kavalan to the list of materials available to customers.
As a ground-breaking alternative to PVC (polyvinyl chloride), Kavalan from CMYUK offers print customers the chance to adapt their business to more sustainable and eco-friendly actions but without compromising on functionality and quality.
Kavalan looks like PVC, welds like PVC, is just as strong as PVC, and available at an attractive price point. Register your interest now and be the first to know when Kavalan is available from Banner Box.
Kavalan is clean
Kavalan is manufactured with end-of-life disposal in mind. The material is designed to be safely incinerated without causing harm to health or the environment and does not give off dangerous chemicals like Hydrogen Chloride (HCl). The emissions are hundreds of times lower than burning PVC and far below the minimum safety levels in EU guidelines.
Unlike PVC, which takes hundreds of years to decompose, Kavalan features a water-based coating that is non-polluting and biodegradable. If the product does end up in landfill, it will break down with much less damage to the eco-system.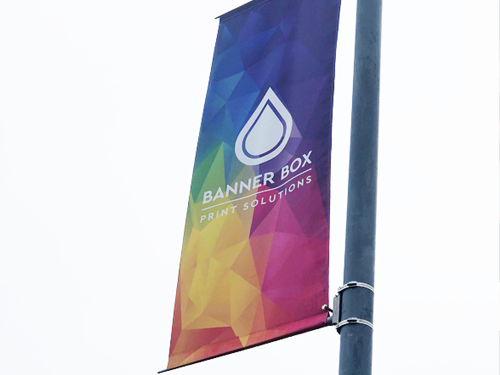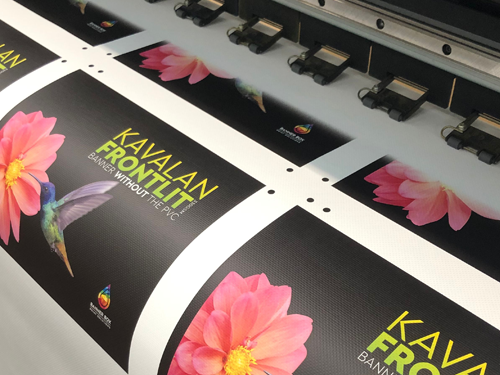 Kavalan is green
Disposing of Kavalan is good for the environment in more ways than one. Not only does it have fewer emissions than PVC, but it is specifically designed for waste-to-energy conversion processes. Incinerating a 3metre roll of Kavalan can generate enough energy to power a TV for more than 3000 hours, or a smart phone for nearly 50,000 hours.
As well as being phthalate-free, Kavalan is compliant with the strictest of environmental standards including REACH, RoHS, and 33P.
It's also 50% lighter than traditional PVC. This significantly reduces the carbon emissions from transportation and add to its eco-friendly credentials.
Before introducing Kavalan to the list of available materials and fabrics, the Banner Box team put the textile through several rounds of rigorous testing. Creating several different products and examining how it faired in the rain, high wind, and bright sunlight gave Banner Box an in-depth understanding of the robust nature of the new material.
Banner Box Director, Ryan Shelton, says: "It's important to us to test material before we offer it to our customers. We want to make sure it lives up to the high standards that the rest of our products have, ensuring top quality for our customers whilst also supporting sustainable materials.
"We're very excited about PVC-free Kavalan," says Ryan. "It's something the market has been calling out for and definitely something it needs. It's going to really impact PVC printing. We have a FIAB welding machine, and the fact that FIAB has endorsed the product 100% is a big deal. It looks like the game-changer we've been waiting for."
Kavalan is suitable for both indoor and outdoor use and is a superb eco-friendly alternative for anything a customer would usually use PVC for. Banners for retail promotion, sports and events, and seasonal signage are just some of the ways Kavalan will be used by clients in a range of industries.
Watch this short video to learn more about the impressive green credentials and the benefits of using Kavalan.
Banner Box Print Solutions can produce your print project on Kavalan from November 2020. Register your interest here and be the first to know when the new material becomes available.
To discuss our other clean and sustainable products, call the sales team on 01246 472 949 or email them here.