Print customers are increasingly looking for new ways to fulfil their print needs in a more sustainable way. With more and more requests about eco-friendly alternatives, Banner Box Print Solutions have partnered with CMYUK to launch a new environmentally friendly material.
The new eco-mesh material is fully recyclable and is the first step in Banner Box's expansion into a full range of sustainable products. Click here to register your interest in the state-of-the-art eco-mesh material and be amongst the first to know when it is available to order
In 2019, Banner Box began working with CMYUK, a market leader in ground-breaking eco-responsible products, on how they could offer a wider selection of sustainable materials for print, as well as maintaining the high quality for customers across the UK.
Prior to covid-19, customers from all sectors were keen to learn about new materials that would be better for the environment and help meet green targets. Unfortunately, the last 6 months has seen a huge rise in the use of single use plastics and attention moving away from the climate emergency.
Ryan Shelton, Director of Banner Box says: "It's definitely put us all on the back foot where the environment is concerned, but as we go forward, hopefully, we can start to think about health and wider eco issues, which is why the sourcing of sustainable materials is vital to our business model."
Banner Box is celebrating this new polyester mesh and taking the lead with a commitment to more environmentally friendly materials with an eye-catching hoarding at their Chesterfield headquarters.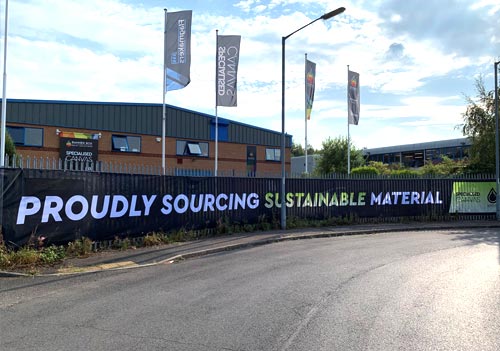 Manufactured by PONGS, this robust polyester mesh is ideal for large-format outdoor use. Tested against wind, rain, and extreme solar radiation, the material retains its colour intensity and shape fantastically. At only 255 gsm, this new mesh is lighter and more air permeable than its plastic-based counterparts, allowing for less carbon when transporting it.
This fabric can withstand demanding outdoor applications and has been awarded 'Standard 100' for customer confidence and high product safety when tested by OEKO-TEX. Fully recyclable and equipped with environmentally friendly fire retardant substances, the eco-mesh is an exceptional product to kick start Banner Box's sustainability product range.
The innovative material offers an exciting opportunity for all types of businesses and industries. The versatile material can be made into a variety of print solutions and guarantee quality colour, finish and durability whilst boasting environmentally friendly credentials.
Banner Box expects to see customers from construction to hospitality ordering products made from the new material including:
Perimeter fencing and Heras fencing can create privacy or intrigue with the use of strong and simple branding, elaborate attention-grabbing designs, or visuals of the finished or upcoming project.
Café windbreaks are helping businesses maintain order as they set up outdoor seating areas and designated routes for customers. They also offer opportunities in brand awareness and promotion.
Building wraps can help real-estate development or events promotions make a big impression. Think big for your colourful print project and consider the planet at the same time.
Banner Box is excited to be offering this new mesh material with complete confidence. Following extensive field tests including colour quality and the effects of adverse weather conditions, the Banner Box team are extremely satisfied with the excellent condition of the product.
Complete the form below to register your interest and be the first to know when eco-mesh is available to order from Banner Box Print solutions.
To learn more about Banner Box's existing portfolio of eco-friendly products call 01246 472 949 or email [email protected]