Metro Airow Post Mount System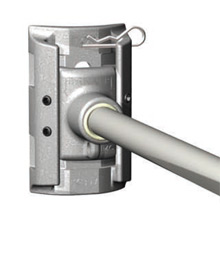 Our Metro Airow system was specifically designed in response to requests for a smaller but adjustable system designed for use on small to mid-sized diameter post columns.  This system boasts all of the features of our D3 system but in a more compact form.
The revolutionary Metro Airow utilizes a specially shaped CNC-tapered fiberglass 'cantilever' arm which holds the banner under constant tension.  When the wind blows, the force is immediately transferred from the taught banner to the fibreglass arms, which then flex and help dissipate the energy.  This protects the banner from excessive wear and greatly reduces the forces exerted onto the post column.
The system comprises of 2 tempered cast aluminium brackets and 2 UV treated fibreglass arms.   The universal bracket allows the system to be mounted on almost any type of post, regardless of shape or surface.  The arms slide into the brackets and are held in place by stainless steel set screws; a hitch pin offers an added safety feature.  The quality materials eliminate corrosion, discolouration and peeling of paint.
Suited to post diameters of 76mm to 120mm
Maximum banner size 700mm x 2000mm
Can be fitted singularly or in pairs per posts
Universal bracket for installation onto round/square/octagonal/fluted/tapered post standards
4 banding straps (2 per arm) are required to secure.
Complete your system with a digitally printed banner – ask about our in-house Graphics team.  Your banner is fitted onto the post mount arms via a sleeve to the top and bottom of each banner
Metro Airow system prices from £129.12
Price includes 2 arms, 2 brackets, 4 banding straps and 1 banding tool.  Price excludes VAT.
Contact our Sales Team for Trade prices.