Already in 2021, the Banner Box facility has seen some major changes. Not only have we refurbished our space, streamlining all stages of our production and created a dedicated print factory, but we've added several state-of-the-art machines to our plant list. These ambitious investments and bold plans are ready to make 2021 an exciting year for Banner Box and offer a range of new opportunities and benefits for our customers.
One of the biggest advancements to Banner Box this year is the growth and evolution of the hard signage service. For more than 25 years, Banner Box has worked alongside print and signage businesses to create premium quality signage and rigid display solutions. With an experienced team specialising in rigid printing, Banner Box is one of the UK's foremost trusted experts in Large Format Print. With new levels of investment and advancements for the dedicated print facility in Chesterfield, Banner Box is excited to offer superb solutions to the rigid print needs of any client.
Albert Einstein, the famous theoretical physicist, said: "Strive not to be a success, but rather to be of value." And as we move forward with our bold plans for 2021, we're putting our customers at the forefront of our plans and regularly consider how Banner Box's changes can be of great benefit to our clients.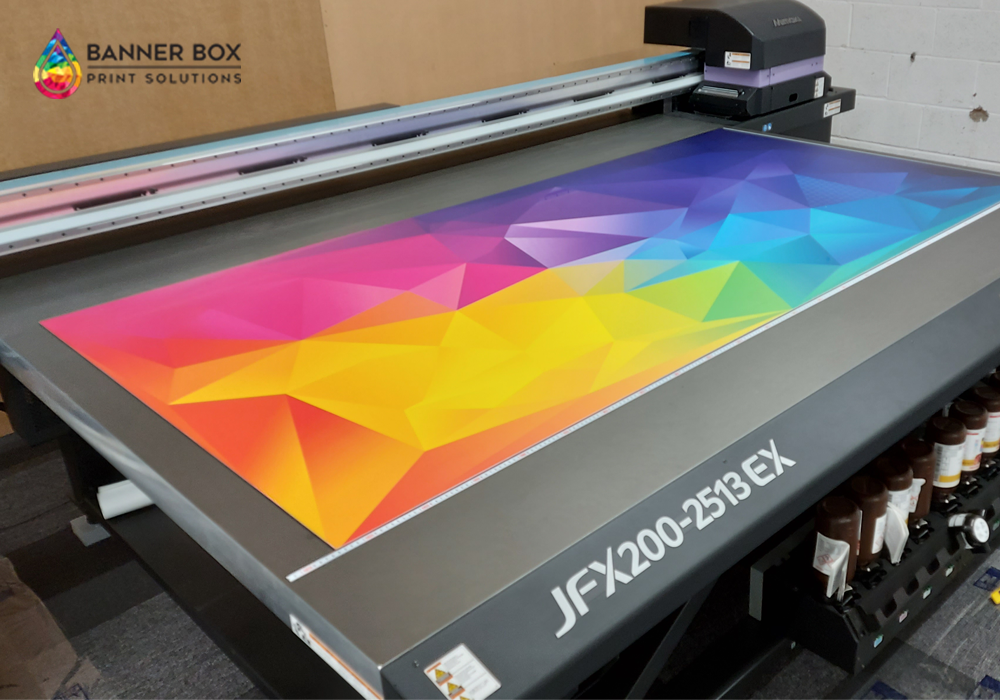 With three new machines added to our plant list, the Banner Box facility will be able to take on larger and more diverse print projects from clients in every industry, as well as exhibit more flexibility to deal with those last-minute, deadline beating print requests. Customers choosing our display services, hardware solutions, or signage range will benefit from the use of these new machines and the expertise of the Banner Box team.
New additions to the Banner Box Print factory include:
Mimaki UJV55-320
A unique combination of super wide output up to 3.2m wide and volume production of graphics thanks to instantly dry ink.
Mimaki JFX200-2513
Fast print speeds, high-density white printing, and the capability to print on a wide range of substrates, means unparalleled results from this UV LED flatbed printer.
AXYZ Infinite Router
A versatile and customisable system suitable for small batch production as well as high volume applications including 2D and 3D signage in wood, metal, and plastic.
Learn more about all our industry-leading machinery on our plant list.
In a time when many businesses and consumers are uncertain about the future, the Banner Box team are excited to advance our production facility and pass the benefits onto our customers. By investing in new resources and sharing the latest advancements in Large Format Print, Banner Box can guarantee each customer – regardless of industry – a first-class customer service, valuable advice and recommendations, and reliable print solutions.
Get in touch to learn more about the latest changes to our production facility and how the rigid display solutions we offer can increase the opportunities, capacity, and capabilities of your organisation and print projects.