Compared to 2019, we've seen 370% more requests for café barriers this year already. Can you think why? Whilst we could say it's because Britain loves a good café, it's much more likely to be because of the impact COVID-19 is having on businesses.
Companies from all types of industries have been getting in touch and learning more about café barriers and how they can benefit their business. These versatile systems can be a superb addition to your retail, hospitality or tourism site and offer a wide variety of uses.
From only £166, Banner Box can help you create outdoor seating areas, designated routes and crowd control, or even an unmissable opportunity to build brand awareness, especially on more pedestrianised streets.
For those who've never looked into café barriers before, unfortunately, there is no 'one-size-fits-all'. There are a few key differences and it is important to understand them before placing your order and we want you to have the perfect barrier system for you.
Check out this simple guide from Ryan Shelton, outlining the options available to you when ordering a café barrier. Or you can always speak to our sales team on 01246 472 949 to learn more.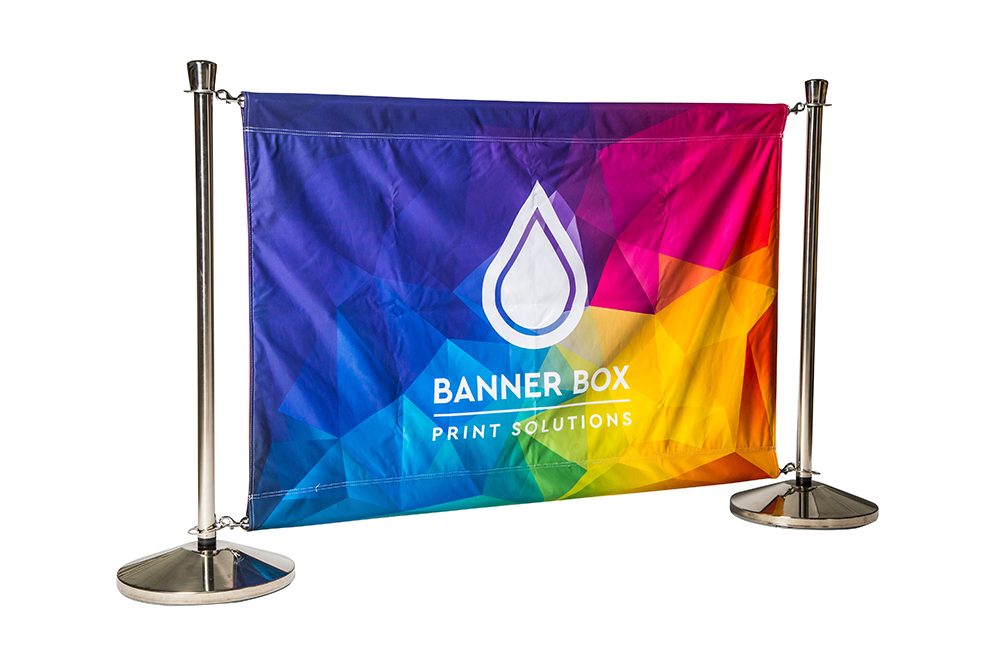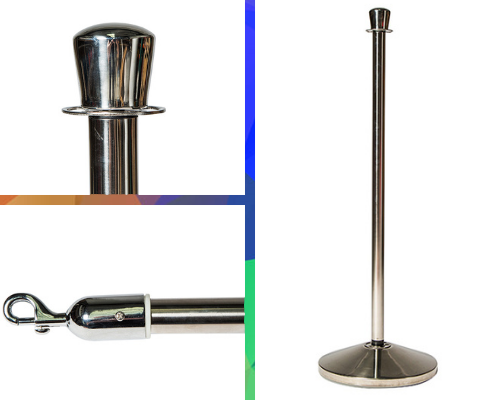 Hardware
Customers can choose from 2 systems of Café barrier. Premium or Popular.
All Banner Box café barriers feature upright posts made from corrosion-free stainless steel. Complete with wedge-shaped final and weighted base, these posts can be moved to wherever you want to create the layout you require.
Premium posts feature a sleek finial at the top, giving extra height and creating a more decorative and distinguished look and feel. Our Popular range posts come with a classic flat top.
The Popular café barrier system comes with an 11kg weighted base, keeping your post in place, whilst still easy to move around to suit your needs. Our premium posts feature a heavier 25kg base, offering further stability in adverse weather, and establishing a high end feel to the barrier and the location you're promoting.
Other hardware options:
Customers often choose two crossbars, one at the top and one at the bottom, to create a more esteemed look for their café barriers. As the material is not as affected by the weather, the double crossbar offers a more stable system, creating a more prestigious look that is also compliant with the Disability Discrimination Act.
More traditional café barriers are fitted with only one crossbar at the top and bungees in each bottom corner. Using only one crossbar is a popular choice for those ordering large numbers of barriers as it is seen as a more economical choice. With no metal bar along the bottom edge of the banner, the wind gives the fabric more movement and a more conventional café barrier aesthetic.
Other options to choose:
The size of your banner and graphics will change depending on the café barrier system you choose. Both premium and popular crossbars are available in several widths and banner graphics are available to match.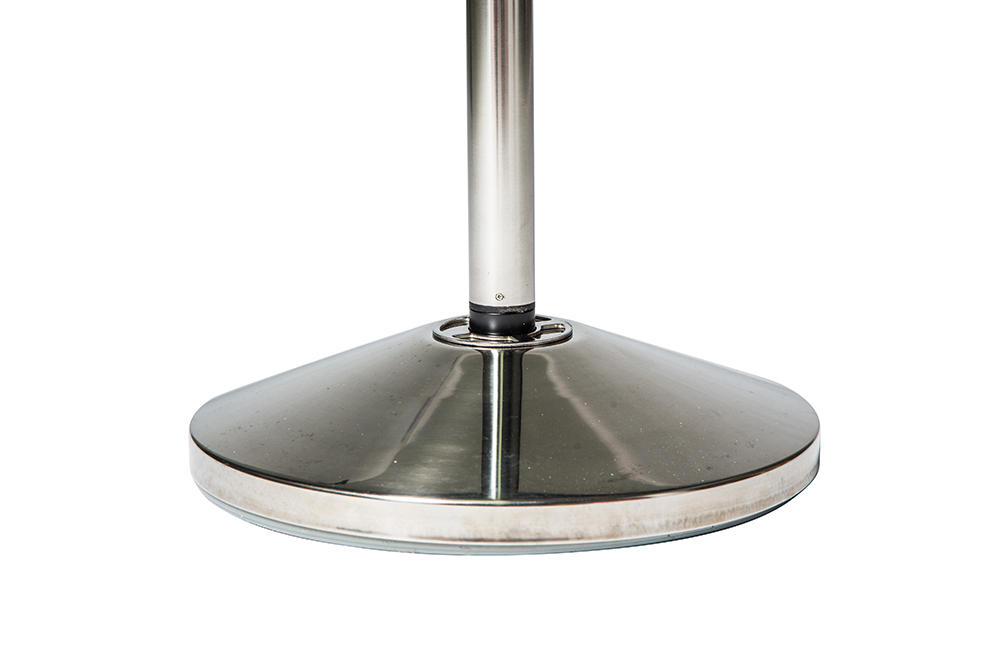 Popular:
1000mm (3.2ft) crossbar | 850 x 900mm graphics
1500mm (4.9ft) crossbar | 1350 x 900mm graphics
2000mm (6.5ft) crossbar | 1850 x 900mm graphics
Premium:
1200mm (3.9ft) crossbar | 1050 x 900mm graphics
1500mm (4.9ft) crossbar | 1350 x 900mm graphics
2000mm (6.5ft) crossbar | 1850 x 900mm graphics
Choose coordinating café barriers to create a consistent perimeter or mix and match to build a custom enclosure with different measurements, entrances, and routes.
Materials
You even have a range of choices when it comes to the fabric you use for your café barrier. Depending on the weather it'll sit in, the finish you're looking for, or the numbers you're looking to print, we have a material that is suited to your needs.
Modern café barriers are often made with Decotex. This versatile display fabric offers a dynamic and eye-catching graphic that's ideal for two-sided printing. Decotex is flame retardant to the highest possible standard for textiles, making it the perfect choice for indoor use in areas such as commercial interiors, exhibitions and at public events. Suitable for indoor and outdoor use.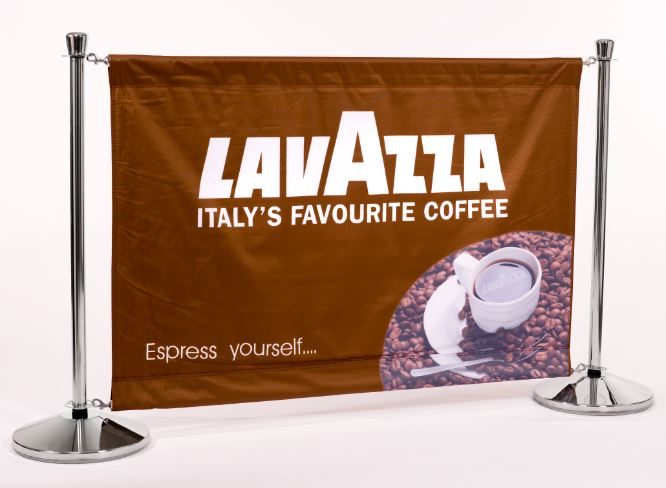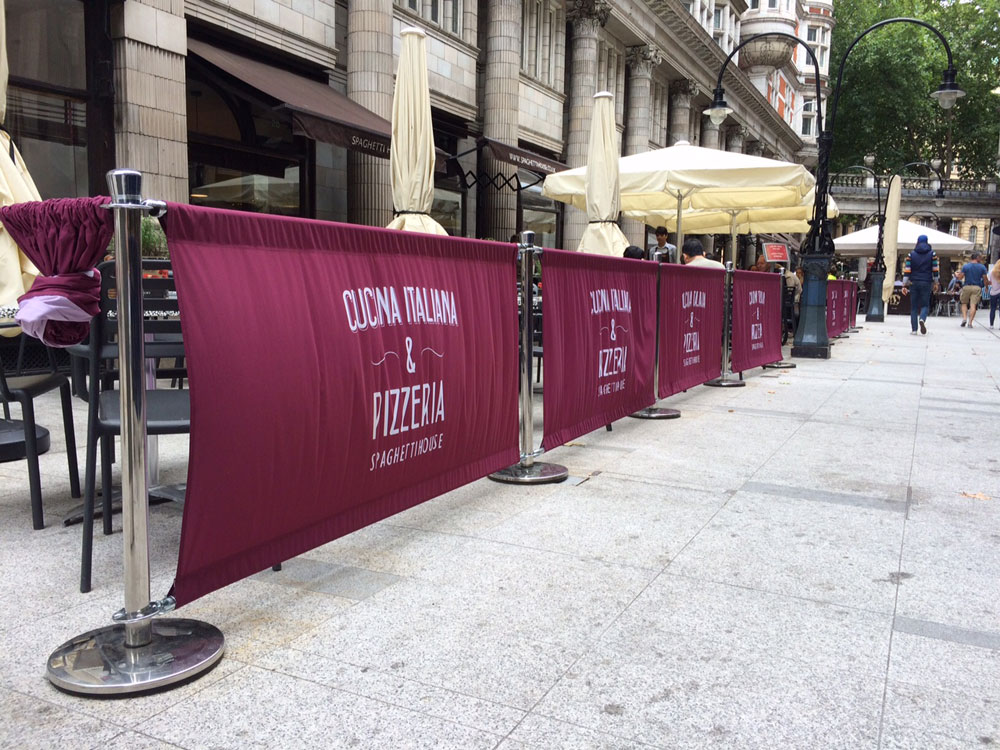 For a more traditional material for your café barrier, 560gsm PVC offers a strong and resilient substrate that can withstand weather on both ends of the spectrum. This coated material with a smooth surface is stronger than budget PVC products and is the best choice when you need it to last for a longer period. Suitable for indoor and outdoor use.
For high wind conditions, you might be better off choosing our PVC Mesh material. Coated in PVC to create a high strength material and tested to demonstrate air permeability and the reduction in wind loading. The colours of your design will be more subtle but can still make a visual impact. Best suited for outdoor use but can also be used indoors.
Want to learn more about our fabrics and materials? Take a look at our full list of available textiles.
Download this advice and have it on hand the next time you're considering ordering a café barrier or café wind break.
Knowing what you're looking for makes the process easier for both yourself and us. Don't forget we're always happy to give further suggestions if you need it too.
Get in touch with our sales team today to place your order.