Jetflag 100g/m2 (±3 %) 3.2m wide FR
The JetFlag material is one of our favourite materials to use, and is usually our go-to medium for flags, as the ink permeates the fabric and prints through to the reverse giving a mirror-image. If you are looking for correct reading graphics on face and reverse (i.e. a logo or words that read correctly on both sides) then we print 2 pieces and sew them back to back including an opaque interliner.
Jetflag offers an excellent balance between weight and strength, it is light enough to fly in the lightest of breezes but will last several months of continuous usage. It is ideal for most kinds of promotional and corporate flags.
The JetFlag material can be used for multiple types of printing, such as Direct, Screen, or Transfer printing. For producing flags, we use water-based dye sublimation inks with one of these 3 printing methods.
This material can be used for Corporate Flags, National Flags, Windchaser Flags, & Soft Signage.
Indoor & Outdoor use.
---
Decotex 220g/m2 (±3 %) 3.2m wide FR
Decotex is a very versatile display fabric, used for a very wide variety of soft-signage and fabric graphic applications.
This material can be used for double sided flags. Customers who require a heavy weight, double sided flag, we print on two separate sheets of Decotex and combine them together, usually with an opaque interliner in-between to prevent show through in strong sunlight, resulting in graphics that read correctly on both sides of a flag.
Decotex is flame retardant to the highest possible standard for textiles, making it suitable for use in areas such as commercial interiors, exhibitions and at public events.
Typical applications include exhibition graphics, retail display, cafe windbreaks, tension fabric graphics, fabric banners and high end flags.
Indoor & Outdoor use.
---
Woven 155g/m2 (±3 %) 1.5m wide
Woven Polyester is an incredible versatile fabric which can be printed and manipulated in many different ways to create striking national and corporate flags. Dye sublimation is a technique where heat is used to transfer the inks onto the material, this material can also be screen printed.
This type of Polyester is also great for flags as it is machine washable, we would advise a gentle wash. This is particularly favourable with flags flown at inner city locations where pollution can discolour the flags. These flags are a fairly heavy 155gsm which gives them a bold colour whilst still being light enough to fly. The fabric, an MOD grade material – if it's good enough for the military then we are sure it up to the challenge of most locations.
This material is used predominantly for Corporate Flags and National Flags.
Indoor & Outdoor use.
---
Powerflag 155g/m2 (±3 %) 3.0m wide
POWERFlag material is a premium quality flag for outdoor use with unprecedented resistance against wear and damage from the effects of the wind and weather. The material gives brilliant colour and can last twice as long as conventional woven materials. POWERFlag unites value for money, elegance and quality.
POWERFlag has been rigorously tested by installing test flags on poles in exposed locations at an elevation of over 1200m above sea level. This means that the average and maximum wind speeds are much higher than typical 'urban' locations and the levels of UV are higher which accelerates fading from the sun. The results prove that POWERflag will last up to 3 times longer than standard knitted polyester flags and twice as long as woven polyester – until now the best material available. POWERflag represents superb value for money, they cost a little more initially but because they last so long you'll save substantially in the long run.
This material is used predominantly for Corporate Flags and National Flags.
Indoor & Outdoor use.
---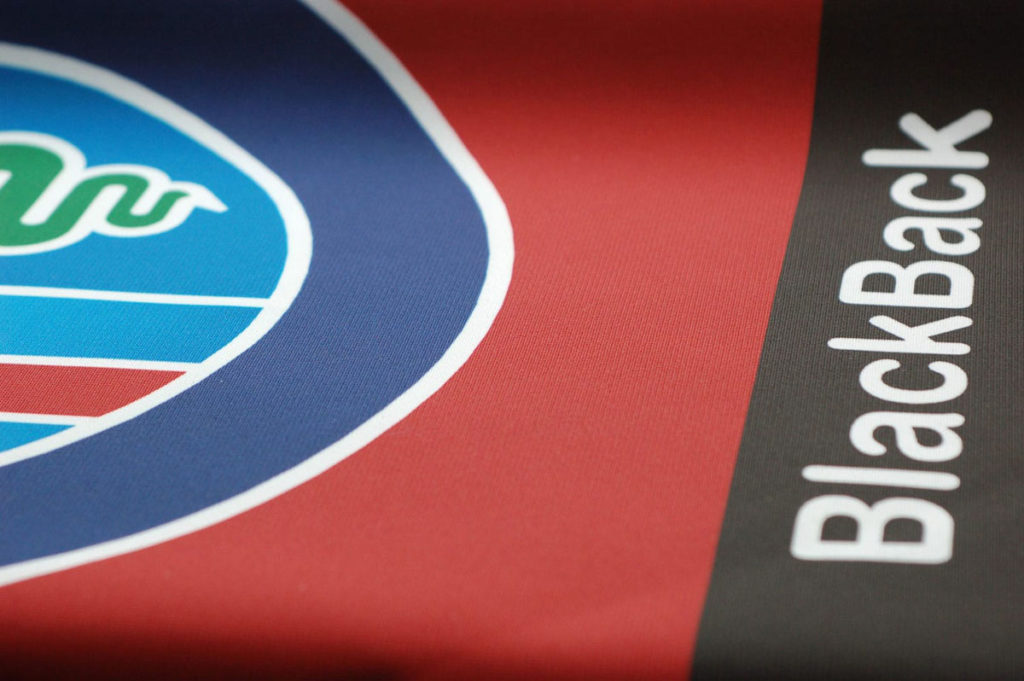 Blackback 235g/m2 (±3 %) 3.2m wide FR
Our BlackBack material is a very popular one for exhibitions, for one special property it has – its thickness. More specifically, it's thickness and ability to block out light from travelling through the material – hence the name, BlackBack.
It has an optic white face which is print receptive and gives accurate and vibrant colour reproduction. The opaque finish makes ideal for use in situations where you don't want to see what is behind it.
Often seen as an 'upgrade option' to our Decotex material it adds an extra WOW factor to your graphics and enables the fabric to be used to create opaque partitions and displays.
This material is perfect for Tension Fabric graphics, creating exhibition stands, display booths and wall mounted displays.
Indoor use.
---
Canvas 300g/m2 (±3 %) 1.6m wide
The Canvas fabric is a great high-quality material used for a variety of purposes, from creating a tough, durable printed texture for furniture, to an element-resistant scratch-proof wall art installation.
The transfer printing method used with the Canvas fabric ensures that the gaseous inks are bonded directly to the polyester fabric, ensuring that the design and material become one – which means the ink will never scratch or peel off, it is now part of the material.
Canvas is one of the Heavy weights of our range at 300gsm, it has all the tactile properties you would want to create a piece that is designed to be viewed close up or handled such as a cushion or other home furnishing.
Typical applications for the material is branded furniture and café windbreaks.
Indoor & Outdoor use.
---
Adhesive Vinyl 300g/m2 (±3 %) 1.5m wide
Adhesive vinyl is designed for any application where the graphics are to be stuck directly to a surface, suitable for small items such as stickers or much larger areas to create full boards or vehicle graphics. Available in both White and Clear versions this versatile material finds many uses.
The White version is opaque which means it can be used as an 'over print' to obliterate graphics or other markings on an existing sign or banner, making it ideal for date and info changes. Working in partnership with our supplier HEXIS, we specify a 5 year adhesive product for the majority of applications, this is designed to be long- term durable and resistant to cracking or peeling.
Adhesive vinyl can also be laminated in a range of finishes to make it highly scratch resistant and to enable easier graphics application.
This material is an ideal solution for stickers and window vinyl's.
Indoor & Outdoor use.
---
Jet 550 PVC 550g/m2 (±3 %) 2.5m wide FR
Our go-to material for both general Banners and more permanent 'Banner Signage'.
The Jet 550 material is a coated material substantially stronger than the Laminated PVC's used in budget products by our competitors. It has a smooth surface on once side for single sided applications and front-lit situations.
Our eco-solvent inks adhere very permanently to the surface of the PVC giving a long lasting and vibrant colour. Jet 550 can be finished as a simple banner with hems and eyelets but can also commonly be used as a semi-structural material in applications such as banner masts and wall mounted systems where the requirement to last for an extended period of time is critical.
Suitable for basic and complex banners. Single or double sided.
Indoor & Outdoor use.
---
Jet 440 PVC 440g/m2 (±3 %) 2.5m wide
The 440 PVC is our economy version of the Jet560 PVC.
This material is more suited to banners that are only going to be displayed for a short period of time
A frontlit 440gsm economy laminated PVC material, excellent tear and tensile strength. The high quality surface delivers consistent printing performance enabling this material to outperform other laminated PVC's.
Suitable for single sided banners.
Indoor & Outdoor use.
---
PVC Mesh 380g (±3 %) 2.5m wide FR
Our PVC mesh fabric is a highly-regarded fabric suited to high elevation environments such as the side of buildings or scaffold wrapping, thanks to its good air flow structure.
The Polyester base cloth is coated in PVC giving a high strength material which is considerably lighter than solid PVC's, which is an important factor when used on large scale applications.
The material has been tested to establish the air-permeability and subsequent reduction in wind-loading compared to solid material. This data will enable structural engineers to calculate the stress loading on a hoarding or building that the material is attached to.
Ideal material for building wraps, banners and low windage event signage.
Indoor & Outdoor use.
---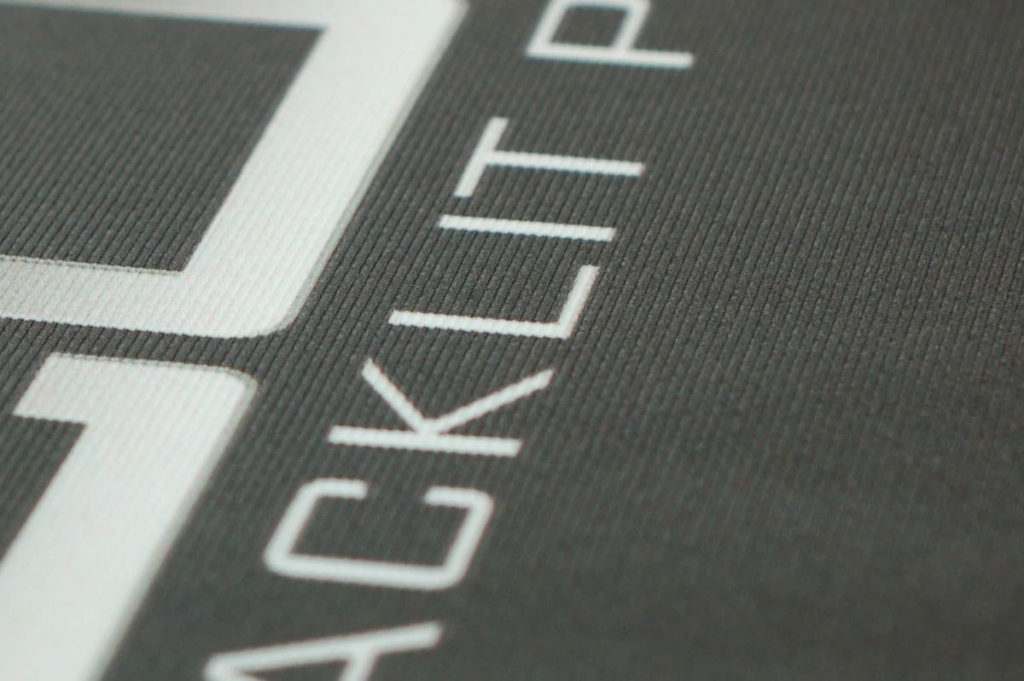 Backlit Polyester 235g/m2 (±3 %) 3.2m wide FR
The Backlit Polyester fabric is another unique material in our arsenal of fabrics available, and serves a very specific purpose in a particular type of installations.
This is a very high performance backlit textile with an improved coating for direct or transfer sublimation. The soft, uncoated white face performs exceptionally well under high ink load with no bleed on higher percentage. The material is also crease and bruise free, and recovers well under tension! EN13501 fire rated.
Finish this product of by sewing our 14mm silicon edging to it and place it in a light box for the ultimate in Tension fabric systems.
Perfect material for lightboxes
Indoor use.
---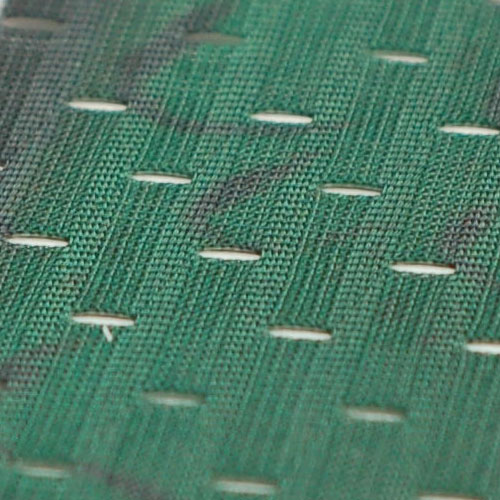 Airmesh 100g/m2 (±3 %) 3.2m wide FR
Designed to be used in every location, the AirMesh fabric contains lots of small holes at regular intervals, allowing air to move through the fabric without distorting it too much or worse, pulling the fabric with it! This allows the fabric to be used safely in high-wind conditions.
This flame-retardant can also be used for flags and beach flags, where strong winds can be a problem for tightly-woven fabrics.
This material is perfect for use on Heras fence panels or lining the streets and creating long lengths or branding.
Applications range from beach flags, banners, building wraps and soft signage.
Indoor & Outdoor use.
Eco-mesh 225g/m2 (±3 %)
As the first in our sustainable materials range, this robust and eco-friendly polyester mesh is ideal for large-format outdoor use. At only 255 gsm, this new mesh is lighter and more air permeable than its plastic-based counterparts and allows for less carbon when transporting it.
The versatile material can be made into a variety of print solutions and guarantee quality colour, finish and durability whilst boasting environmentally friendly credentials.
Fully recyclable and equipped with environmentally friendly fire-retardant substances, the eco-mesh has been extensively tested against the wind, rain, and solar radiation. It retains colour intensity and shape brilliantly and is suitable for indoor and outdoor use.
Learn more about our sustainable materials here
---
ACM
Featuring a low density polyethylene material sandwiched between two thin layers of aluminium, ACM offers a more cost effective solution. It's features make this material popular choice for longer term outdoor signage and when looking to achieve a premium finish.
Properties & advantages at a glance:
Excellent print surface
Weather resistant
3mm aluminium skin
Lightweight, rigid and strong
Suitable for interior and exterior
UV digitally printable
Most popular applications;
Signage
POS
Display fixtures
Cladding, hoardings
Interior decorations.
---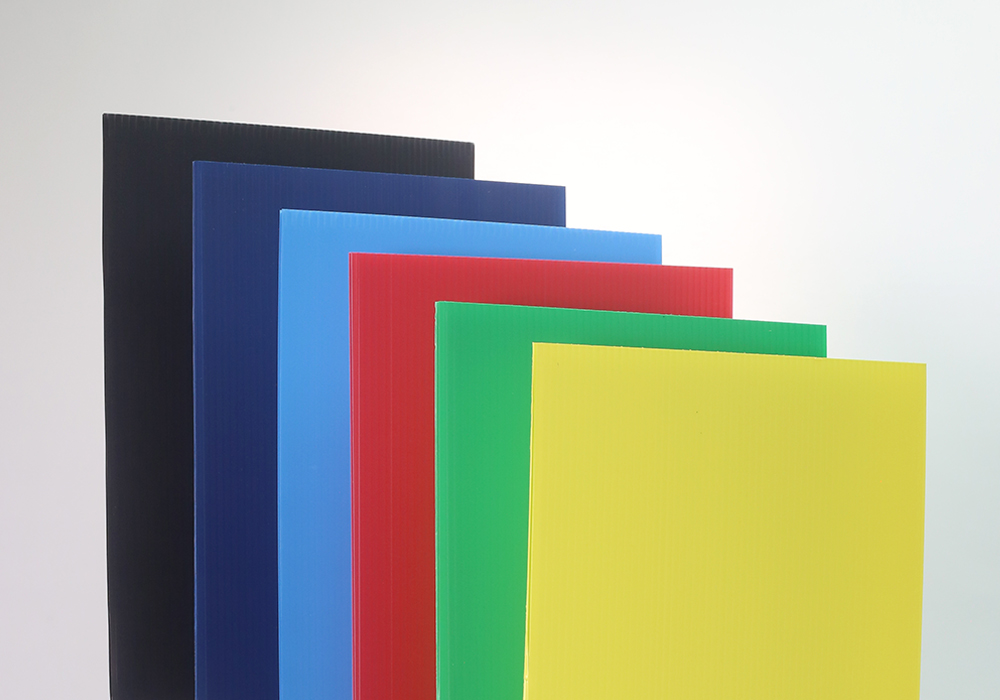 Fluted Board
Widely established as a leading product for short term and cost effective interior and exterior signage, fluted polypropylene is a popular substrate due to its excellent value for money.
It is created when polypropylene is extruded through a 'corrugated' die, resulting in a lightweight but semi-rigid material that can be printed on our UV flatbed digital printer, producing high quality images.
Properties & advantages at a glance:
Lightweight
Semi rigid
Surface treated – dyne level is very high ensuring good ink key
Interior and exterior use
Recyclable
Made in UK
Most popular applications;
Stadia advertising
Pitch boards
Lamp post
Sleeves
---
Foam Board
Foam board features a high quality, rigid, low density polyurethane core between two white recycled paper liners.  It offers you everything that you would wish for a lightweight, indoor, all-round foamboard.
Foam board sheets can be cut easily to any shape or size to suit your requirements. On some Foam board print applications the thin and delicate ink layer could be protected by a film laminate or topcoat of clear scratch and UV resistant lacquer.
Properties & advantages at a glance;
Interior use only
Very Lightweight making transport and installation easy.
Cut to any shape or size
Most poplar applications;
Decoration And Picture Frames
Hanging Signs
Modelling
Photo Mounting
POS/POP Applications
Shop Window Design