Since the birth of Banner Box we've always firmly believed in investing in our machinery to maintain our position at the forefront of the large format print industry and more importantly to ensure we supply our customers with great value, outstanding quality products in a timely manner.
In keeping with this, 2020 certainly has started with a bang with the recent installation of two new state-of-the-art machines that significantly enhance our capabilities and capacity.
3.2m G3 Zund Cutter
Investing in our second automated Zund cutter means we are planning for the future, today!
By doubling our cutting capacity we've ensured we won't incur any bottle necks at the cutting point in our production process when inevitable spikes in demand occur (we all do our best to plan ahead, but anyone working in the print industry for a long period of time know that these peaks are unavoidable), a key benefit to our customers when it comes to proving you with a fast and reliable service.
Additionally, by now using automated machines to cut over 95% of our print, we're getting a cleaner more consistent cut of our materials and it is marginal gains like this that stack up and provide our customers with a superior finish on our products.
Cutting Service
Finally, the installation of our second Zund has given us capacity beyond our currently necessity and ensures there is further room for growth, which is a very desirable position to be in and means we can now offer a "cutting service" that is already proving extremely popular with businesses from a variety of industries.
✔ Printing & Graphics
✔ Automotive
✔ Clothing
✔ Defence
✔ Medical
Check out a video of our automated Zund machine in action created by our sister company, Specialised Canvas.
MIMAKI TS55-1800
Our second significant investment in January saw us add the Mimaki TS55-1800 to our already impressive line up of print machines, future proofing our business by further increasing our capacity and capabilities and in turn ensuring we will continue to provide our customers with exceptional quality print and service.
When we decided now was the right time to upgrade our print machinery, we considered a variety of machines, but the Mimaki TS55-1800 stood out from the crowd, scoring very highly on our two most sought after criteria;
1. Quality
When making any product-based decision, print quality will always be at the heart of it. Having seen numerous different product demonstrations, the Mimaki TS55-1800 was an obvious choice to us thanks to its superior print quality at high speeds.
Indeed, the newly introduced "MAPS" functionality, that provides gradation to printed pass boundaries to maintain stable print quality by reducing banding and uneven colour, seems to be real winner and we are delighted with the print quality that we are seeing.
2. Capacity
Once we had ticked the quality box, we then wanted to ensure we were investing in a printer that would really give our capacity levels a substantial boost .Ensuring we are in a great position to meet the increasing demand for our products and give us the flexibility to accommodate that hard to plan for last minute order.
The Mimaki TS55 -1800 more than achieves this with an impressive "standard print speed" of 50 sqm/h combined with some excellent new features, most notable a super large ink supply unit and mini jumbo roll unit, which allows you to print up to 2500m of paper without stopping – perfect for that overnight print run.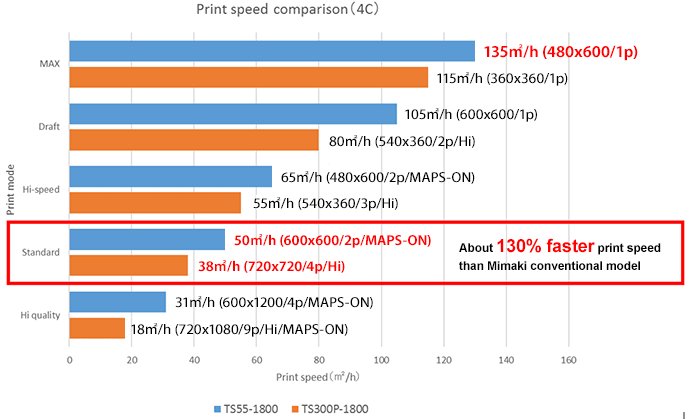 Partner with us
After an exciting start to 2020 that has seen us significantly upgrade our business, we have put ourselves in a great position to support existing and new customers in the future by delivering a trusted large format print and hardware solution that can be relied upon.
If you're a print or signage company and interesting in expanding your capabilities and increasing your capacity we would love to hear from you.