One of our first "post-lockdown" projects was to assist a local independent coffee shop / cocktail bar with the shopfront branding of their new business in a busy city centre location! Below is a brief overview of this extremely enjoyable project, which we managed from initial design concepts to final installation and sign off!
Our Client
Hopper is a newly opened Neighbourhood Bar and Kitchen built on the site of an old takeaway on Ecclesall Road, one of Sheffield's trendiest locations for a night out with cocktails bars and restaurants a plenty.
An independent business, Hopper is operated by a team of family and friends who share the goal of being a genuine neighbourhood place. In their own words, "somewhere to stop for coffee on your way to work, have a family brunch or drop in for an evening cocktail."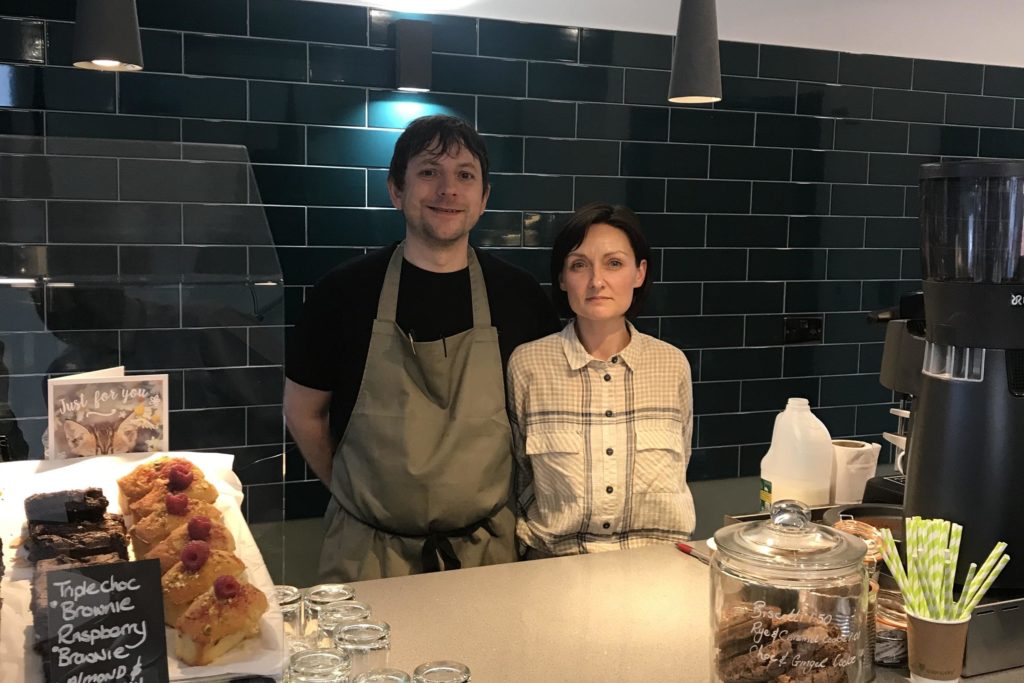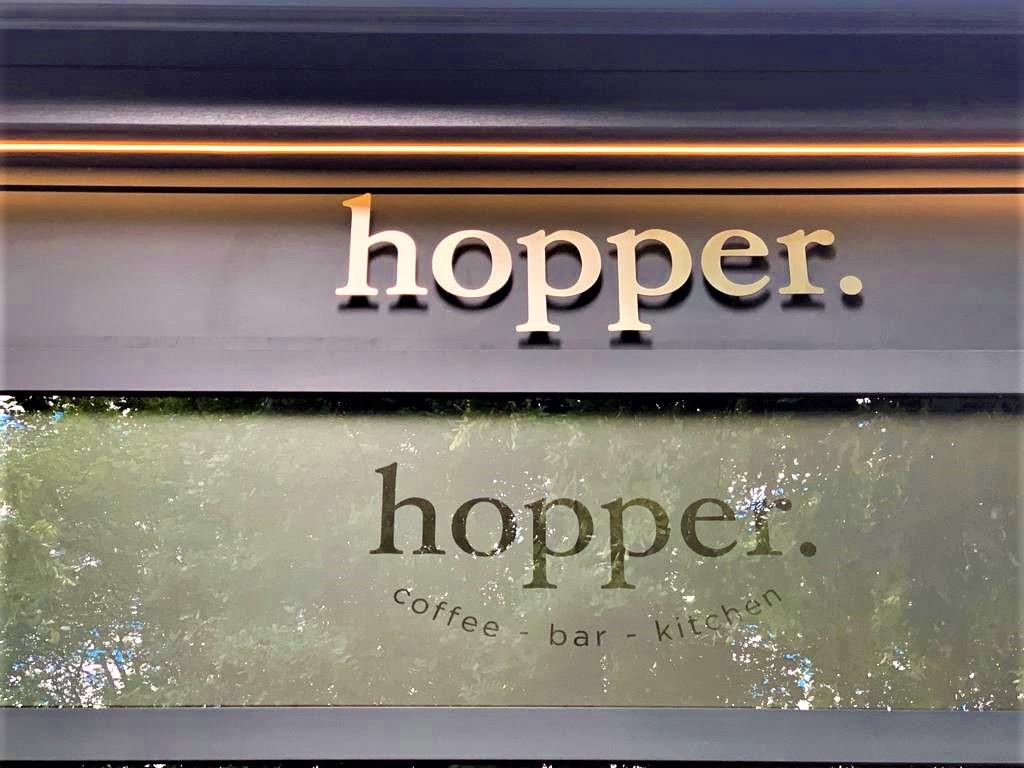 The Brief
Spacepad design & build came to us with a vague idea of what they were looking for having looked after their entire renovation project from start to finish. After a site visit and meeting with the owners to get a clear understanding of their requirements, it was evident that they really desired a solution in keeping with the local area and surrounding businesses, whilst also fitting their own branding and style.
In addition to the design and manufacture of the products, of equal importance to the Hopper management team was the need for a supplier to provide a full installation service, to take away the additional stress and strain of organising this themselves and ensuring minimal disruption to their every day businesses.
Our Solution
Having listened closely to our client's brief and taken time to review the local area, we put together a solution combining a range of products that we were certain would create the perfect 1st impression on their customers;
Standard Duty Wall Mount System with double sided PVC Banner: This was an easy choice for us and was the 1st product on our list – the fact that it stands off of the wall adds an extra dimension to the aesthetics of the building and also gives the cafe visibility from a distance on what is a very busy road. The double sided PVC banner ensures visibility from both sides and can easily be washed down to keep it looking great for longer. Finally, the aluminium brackets and arms were grey powder coated to perfectly match the building's features and branding.
Flat Cut Stainless Steel Lettering: This option was chosen for the front of the building as we felt it was a great fit with the local area and the Hopper brand. Furthermore, the product is easy to clean and long lasting, meaning it will look great for a long, long time.
Built up flat faced stainless steel letters with white LED illumination: For the main focal point of the building, above the main entrance, we wanted to make a real impression that would catch the eye of the passing trade, night or day.  Using built up flat face stainless steel letters combined  with white LED back lights  to create a "halo sign" makes it an impressive feature, particularly once the sun sets!
Frosted vinyl: The final addition to the project was frosted vinyl applied to the inside of the windows, a simple yet classy look that really brings the whole project together and adds the perfect finishing touch!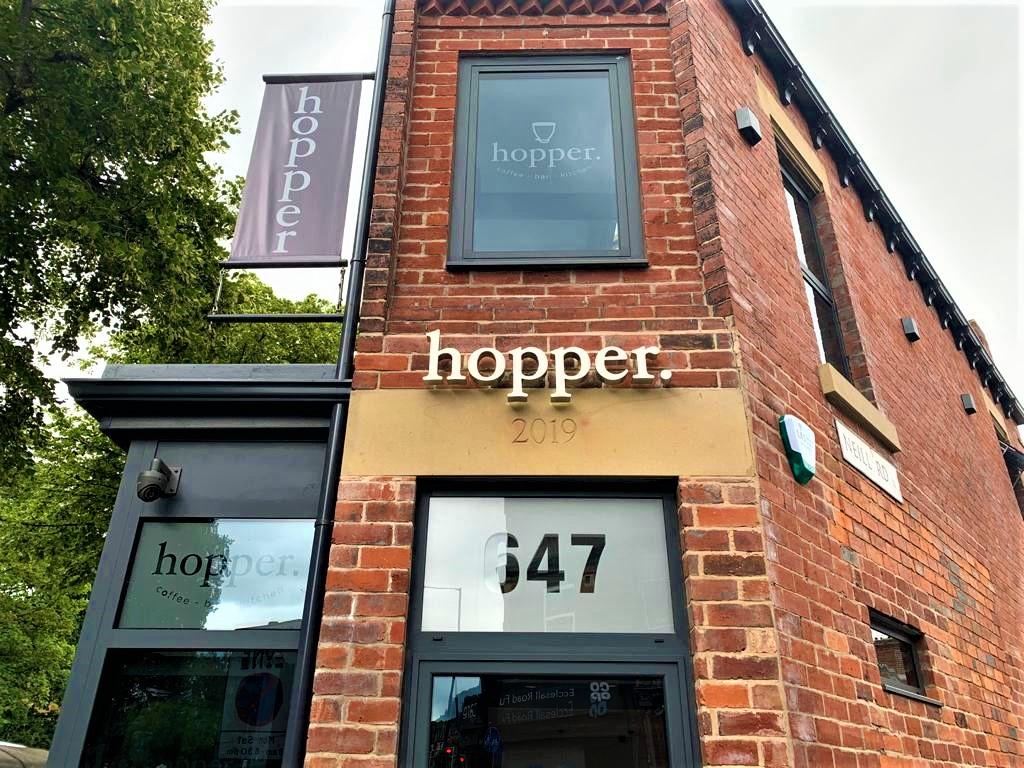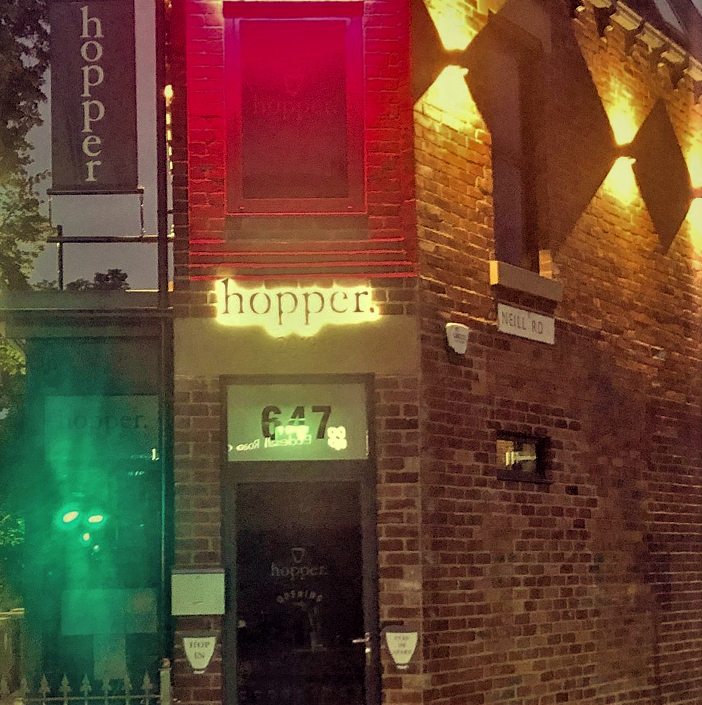 Feedback
"Our signage is now complete and we are absolutely delighted,  it is looking beautiful and our customers love it! A big thank you to the Banner Box team for turning our vision into reality!" Ria Smedley, Owner.
Let's get the job done
When you need to stand out from the crowd, you need something that delivers real visual impact. Something that makes people step back and take notice. That's where we come in.
Got a project in mind? We can help turn it into a reality – just get in touch.