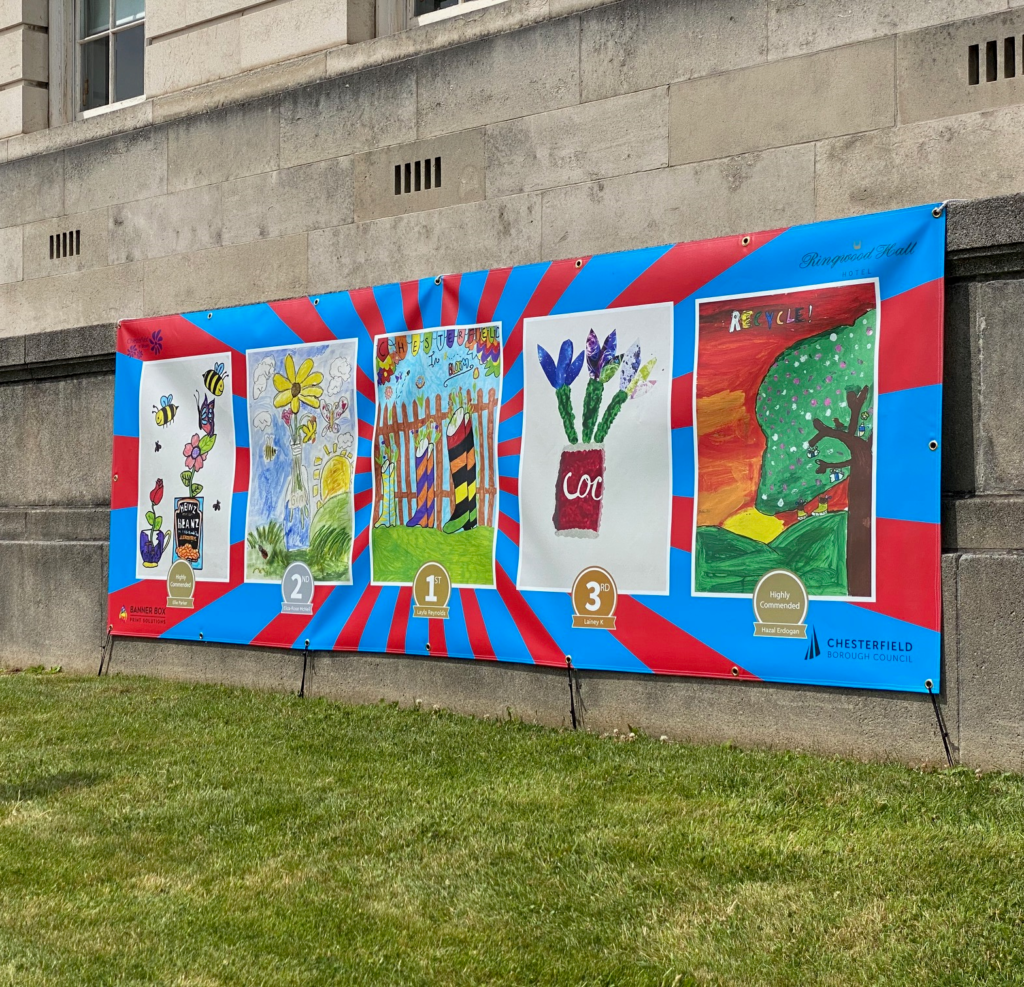 Banner Box Print Solutions has unveiled a collection of printed banners and frames at Chesterfield Town Hall, featuring the winning designs from the Chesterfield in Bloom colouring competition.
Chesterfield in Bloom is a celebration of nature and aims to involve more people in improving their local area and the environment of Chesterfield. As part of this year-round campaign there is a series of competitions including best front garden, best allotment, and the popular school's competition featuring the artwork of local children.
This year, children were asked to submit drawings following the theme of sustainability and recycling, and the results saw some imaginative entries across two age categories.
In previous years, Banner Box Print Solutions has welcomed the competition winners to the 25,000 sq. foot production facility in Chesterfield for a factory tour and an in-depth look into the process of turning their drawings into large, printed banners.
Due to COVID restrictions, this year's awards ceremony was hosted at the steps of Chesterfield Town Hall, where Councillor Glenys Falconer – Mayor of Chesterfield – formally revealed the winner's designs and presented all the children with a replica banner of their award-winning work.
Banner Box Print Solutions proudly produced a range of banners and selfie frames for the winners to take home, for the local community to enjoy at the entrance to Town Hall, and across the heart of the town.
Paul Noble, Group Managing Director for Banner Box says: "We love producing the graphics for the winners of the Chesterfield in Bloom contests. The competition has produced some fantastic entries and it is great to be able to see them reproduced in large format and contribute to our local community."
Chesterfield Mayor – Glenys Falconer – says "Once again, the children entering the competition have produced some fantastic artwork. I am immensely proud to unveil these banners at the town hall so the winners can see their work enjoyed by the whole town."
This outside ceremony marks the official entry from Chesterfield into Britain in Bloom, including the artwork on the large banners, and winners from other Chesterfield in Bloom categories and contests.
To learn more about the printing capabilities of Banner Box Print Solutions, contact our team of print experts on 01246 472949, email [email protected] or visit www.bannerbox.co.uk