2022 is set to be a momentous year for the UK and the Royal Family. Already the longest-serving female head of state in history, Queen Elizabeth II will observe her Platinum Jubilee and commemorate 70 years on the throne.
We've developed a range of print & signage products to help you celebrate the special occasion.
Selfie Frames
Our platinum jubilee selfie frames are great fun, providing a great social or party entertainment experience for your guests, friends and clients.
All selfie frames are designed and made at our facilities in Chesterfield, UK!
Product Specification
Size: 600mm x 840mm, with cut out in the middle and fold down the middle.
Material: 3mm foamex
Print: Full colour print directly to the material.
Purchase our jubilee selfie frames online on our Platinum Jubilee Print website.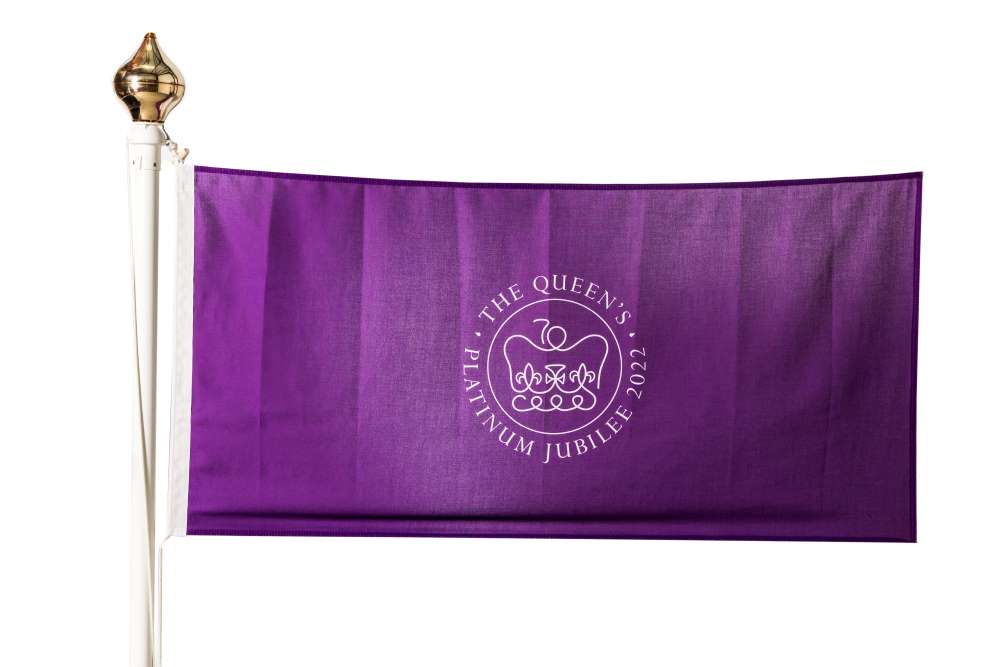 Platinum Jubilee Flags
The Platinum Jubilee Flag is perfect to celebrate the Royal Occasion on the 5th June 2022. The Queen's Platinum Jubilee Flag is available with purple or platinum background and is created following official emblem usage guidelines.
Made from highest-quality MOD grade flag fabric
Designed and manufactured for outdoor flying
Hemmed on the three exposed sides with a strong double hem
Platinum jubilee flags are supplied complete with headband, rope and toggle ready to fly
Purchase our jubilee flags online on our Platinum Jubilee Print website.
Tablecloths
Our premium quality platinum jubilee tablecloths are a great way of decorating for the forthcoming celebrations.
Made from single sided decotex, our machine washable tablecloths are finished with a hem to all sides for durability and are available in 3 different sizes;
4ft: Cloth Size – 162cm by 101cm
6ft: Cloth Size –  223m by 116cm
8ft: Cloth Size – 264cm by 120cm
Purchase our jubilee tablecloths online on our Platinum Jubilee Print website.
Union Flags
We manufacture and supply the Union flag ready to fly on the top a flagpole in either hand sewn or digitally printed options.
We highly recommend hand sewn national flags as the preferred choice for your flag. Manufactured using Ministry of Defence approved 155gsm woven flag material, this fabric offers the best possible durability and has been used by the Navy and other military branches for many years.
Hand sewn Union national flags are made to MoD & Flag Institute standard patterns by cutting panels of the required colours from a roll of fabric, before being sewn together by our skilled flagmakers to create the official Union pattern.
Dye-sublimated Union national flags are created using our state-of-the-art textile print systems and woven polyester flag fabric in our UK manufacturing facility. Chosen for strength and durability, woven polyester is an ideal choice for anybody looking for a good value national flag finished ready to fly from your flagpole.
The Union flag is finished by hand with a headband rope and toggle as standard, ready to attach directly to a flagpole. The three exposed sides of the flag are finished with a strong double hem and a triple sewn hem on the fly edge for extra durability.
Purchase our union flags online on our Platinum Jubilee Print website.
Platinum Jubilee Bunting
Our platinum jubilee bunting is made from synthetic paper, making them the perfect solution for indoor and outdoor usage.
Choose from 4 different designs;
White & Purple pennants with Jubilee logo alternating
White & Union pennants with Jubilee logo alternating
Standard Red, White & Blue alternating
Standard Union Bunting
Bunting is available to purchase in 10m lengths. Individual pennants measure 200mm x 300mm triangles, with print applied to both sides and sewn to white webbing.
Purchase our jubilee bunting online on our Platinum Jubilee Print website.
Personalised Jubilee Banners
Our range of platinum jubilee banners are specifically designed for the upcoming celebrations and are a great way for you to advertise an upcoming event or decoration.
Banners can be personalised with your own text or logo, we'll contact you post sale to discuss your requirements.
Our platinum jubilee banners are 3m (w) x 1m (h) in size and are made from 500gsm PVC, making them perfect for outdoor use.
All our banners are finished with a sewn hem all round and with brass eyelets, allowing you to fix to a surface of your choice.
Purchase our jubilee banners online on our Platinum Jubilee Print website.
Feather Flags
Feather flags are a flexible solution which makes them perfect for festivals, country shows, sporting events, motor shows, corporate events and exhibitions, and are extremely cost-effective for the visual impact they provide!
Available in 3 standard heights from 2100mm to 4990mm
Choice of 3 base options: spiked base or water/sand filled, or car plate
High-quality full colour printed 100gsm knitted polyester
Perfect for festivals, country shows, sporting events, exhibitions and more
Purchase our jubilee feather flags online on our Platinum Jubilee Print website.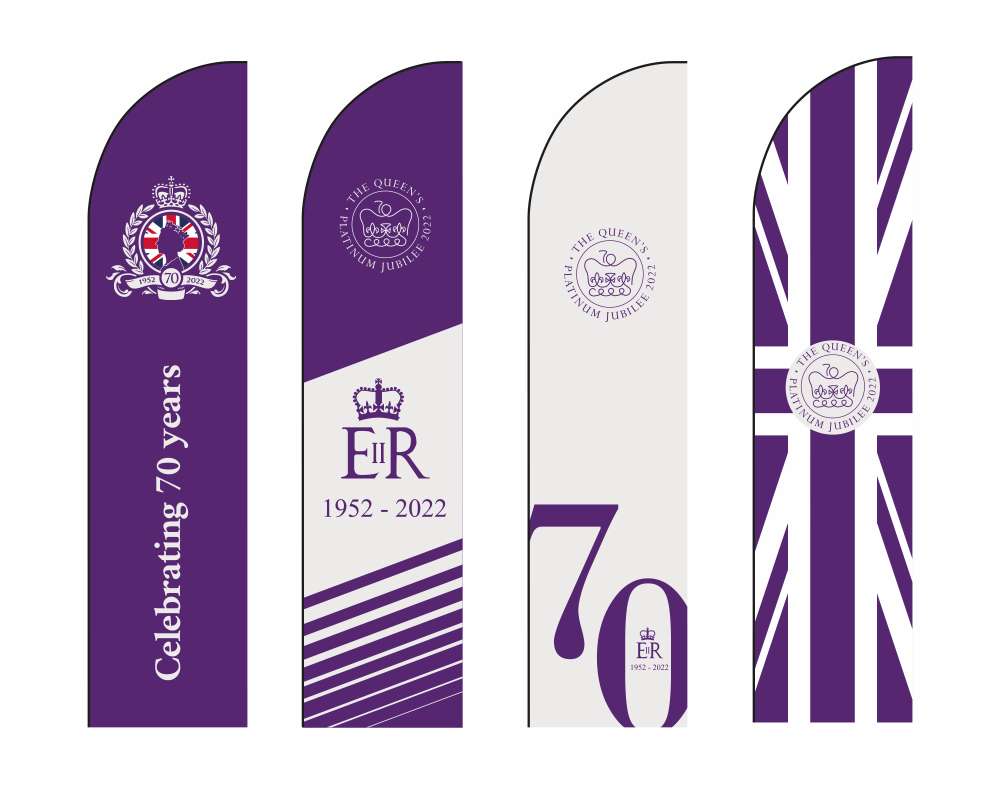 Can't Quite Find What You Are Looking For?
Get in touch with our team of experts today and we'll work with you to ensure we find the perfect solution!