6 Must-Have Print Solutions for Christmas 2021
With more than 25 years of experience, we understand that each holiday season is guaranteed to be a busy time for the print industry. As we look forward to the first 'normal' winter in a couple of years, retail, events, and hospitality businesses across the country will be looking for impactful and noticeable signs and displays to promote their products and services.
With Christmas fast approaching and some businesses already putting up displays, the Banner Box team are anticipating even higher demand for premium quality large format print in 2021. Don't be that print business that can't say yes when your kids…I mean customers… ask for something.
Explore the superb solutions we expect to be top of everyone's Christmas list for 2021 and discover how Banner Box can provide a premium and bespoke service to fulfil all your needs.
1) Heavy Duty Wall Mounted Banners
Suitable for banners up to 5000mm, these robust outdoor structures are the perfect choice to grab the attention of passers-by. Customers can easily install and change custom artwork on the powder-coated aluminium system and make a festive first impression and eye-catching displays.
2) Advertising Hoarding
For an imaginative and powerful advertising choice, businesses in all industries will be investing in stand-alone billboard fencing or mounted images for a continuous large-scale graphic. The perfect way to get a business noticed, the impact of advertising hoarding is guaranteed to create an inspirational scene.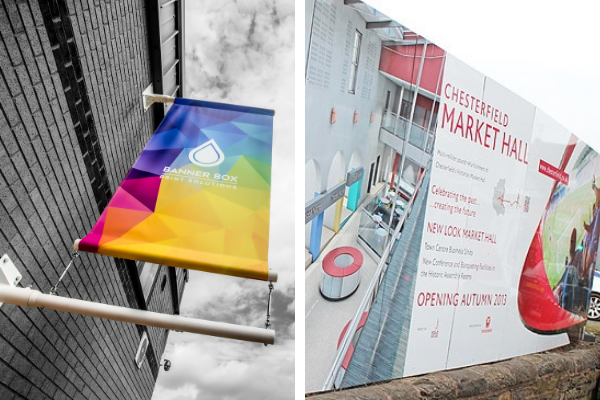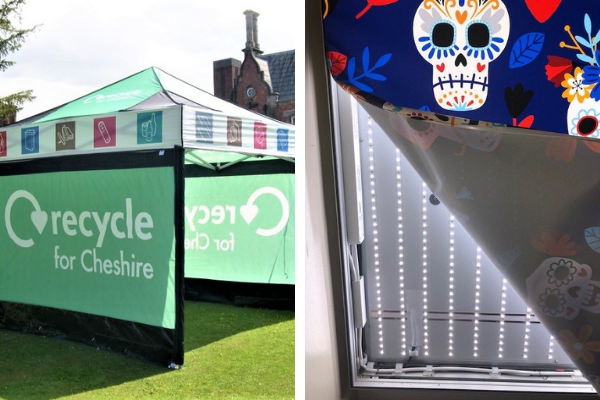 3) Pop Up Gazebos
The possibilities are endless when you choose dye sublimated printing for a bespoke pop-up gazebo. Available in three sizes and customisable with various combinations of frame, canopy and sidewalls, these easy-to-install products are a quick and simple promotional tool. Supplied with a tie-down kit and carry bag, create focus, and market any brand or company at any indoor or outdoor event.
4) LED Lightbox
Exhibitions, trade shows and retail environments can create a show-stopping look with our sleek aluminium lightboxes. Illuminate custom graphics with minimal frame on show but with an exceptionally sturdy aluminium profile.
5) ACM Rigid Signage
If you need weather-resistant signage, ACM offers a cost-effective and durable solution. Featuring two layers of aluminium sandwiching low-density polyethylene, this material is easy to fabricate and suitable for exterior use. Get in touch to learn more about the excellent printed graphics we can produce on any shape or size ACM.
6) Corporate Flags
As businesses battle to stand out amongst the rest, we've seen an increase in the number of premium quality corporate flags being flown. Customers from all types of industries are looking to combine full-colour images and customised graphics with bespoke flagpoles suitable for any location. Ask us about UV stable and waterproof printing, and we can even help design a professional and impactful design.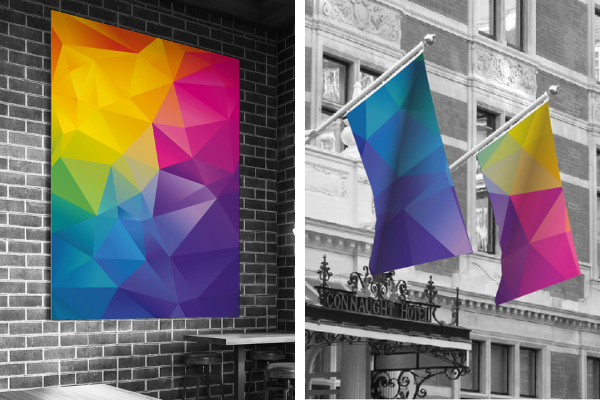 Our printing capabilities cover everything your print and signage business could need this holiday season. Whether its extra print capacity to meet a surge in demand or enhancing your product offering, think of the Banner Box team as a group of eager elves ready to help you and your customers. And with everything made here in the UK, you can be sure of superior quality time and time again, turning even the most ambitious projects into a reality.
Whether you're ready to start your next project or have questions about any of our large format print solutions and hardware, we are to help. Just get in touch! Call 01246 472949 or email [email protected]