For the past six month, the Banner Box team have been collaborating closely with Custom Camping, a recently established brand focused on delivering premium quality campervan and motorhome screen covers  and thermal pop top wraps. Together, we have supported them in their business launch, ensuring they offer premium quality products to their customers.
Through close collaboration with core members of the Custom Camping, our design studio has played a crucial role in transforming their vision into a distinctive brand. We began by crafting a captivating logo and selecting a harmonious colour scheme that not only aligns with their market, but also sets them apart from competitors both in the digital space and during events and exhibitions.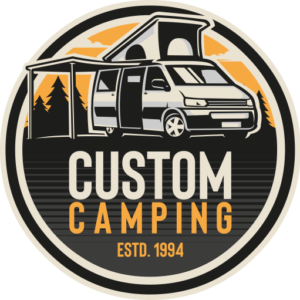 Crafting Remarkable Designs
After establishing the brand identity, our design team took on the challenge of translating Custom Camping's initial concepts for their screen covers into a remarkable collection of over 60 designs. The primary focus was to create covers that are not only visually appealing but also stylish, addressing a specific market need for a fresh approach to insulation for campervan and motorhome owners. By recognising this gap in the market, Custom Camping aims to revolutionise how vehicle insulation is approached.
In collaboration with Custom Camping's product designers, our production team dedicated efforts to sourcing the ideal material for their covers, resulting in the decisions to use Hurricane FR fabric. True to its name, Hurricane FR is both fire retardant and water-resistant, making it an ideal foundation for their exceptional designs. We are delighted to report that these show-stopping covers have made a significant impact in the market, captivating customers and garnering widespread attention.
Precision Printing and Meticulous Assembly
Once all the preparations were in place, the production phase commenced, involving the printing of the designs on our cutting-edge dye-sublimation printers. These designs are then heat-pressed onto the Hurricane FR fabric. The dye-sublimation process grants Custom Camping a notable edge over their competitors, enabling them to offer an extensive selection of designs while ensuring the longevity of the product's visual appeal. This advantage guarantees that the covers will maintain their impressive appearance for an extended period, further enhancing the overall value provided to customers.
Subsequently, the printed material proceeds to the next stage, where our automated Zund cutter precisely trims it to the desired dimensions. The cut pieces are then handed over to Custom Camping for the final assembly. The culmination of this meticulous process yields an aesthetically pleasing screen cover that not only meets but surpasses market standards. Custom Camping's innovative approach has truly elevated campervan and motorhome insulation to new heights, offering a leading-edge solution that stands out in the industry.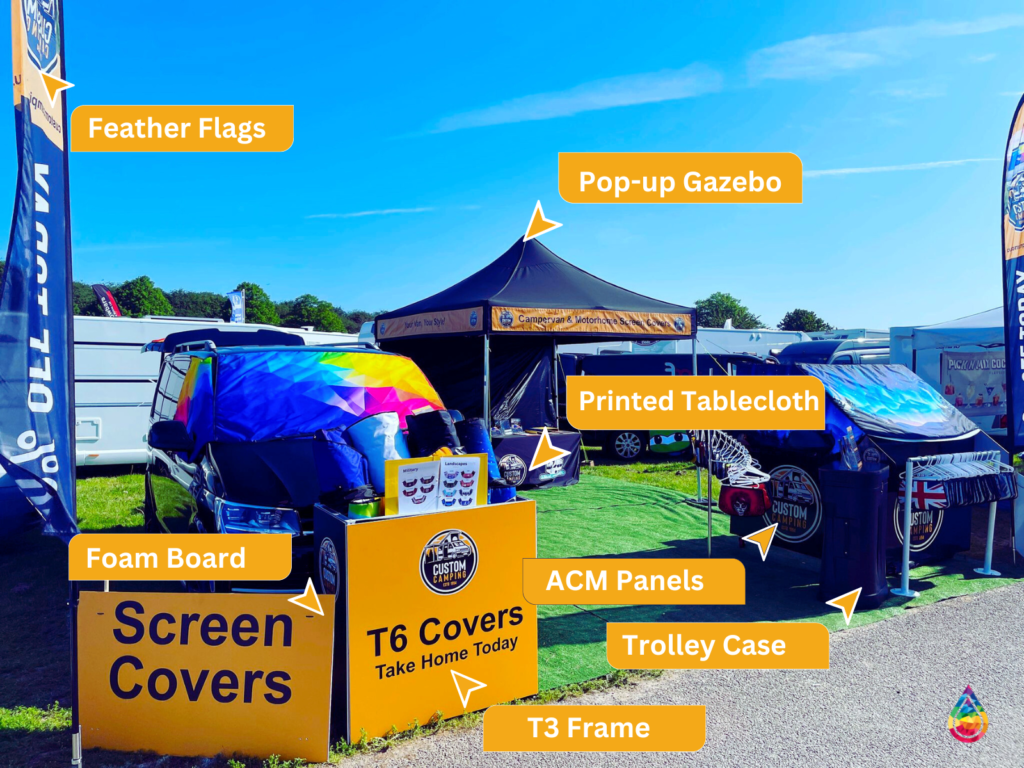 Event & Exhibitions Success
Beyond our involvement in product development and production, we have also extended our expertise to support Custom Camping's event and exhibition initiatives. Over the past six months, Custom Camping has actively participated in numerous indoor and outdoor events, and we have been instrumental in providing a range of products to enhance their presence. These include pop-up gazebos, ACM signage, T3 tension fabric stands, feather flags, and roller banners. By leveraging this diverse selection of promotional items, Custom Camping has effectively showcased their brand and offerings, leaving a lasting impression on attendees at each event.
Leaving A Lasting Impact
The journey thus far has been immensely fulfilling, and we eagerly anticipate the future as we continue to assist and empower Custom Camping in their ongoing pursuit of dominating the campervan and motorhome market. With their innovative products and our unwavering support, we are confident that Custom Camping will continue to make waves and leave a lasting impact in the industry.