We recently helped in the creation of Urban Front's exhibition stand. The stand was exhibited at 100% design at Earls Court and also at the Green Building Show in Denmark a month ago. The stunning minimalist stand showcased the striking design work of Urban Front beautifully.
Banner Box were able to provide two Primex double sided frames which then hosted four artworks. The frames stood around just over 2m high, which proved appropriate with the doors and door frames Urban Front were displaying.
100% Design was a fabulous event in hectic Earls Court, where 100's of designers flocked to showcase their innovations on a world stage. The Green Building Show in Denmark is of a similar scale with almost 5000 visitors attending this year.
We were pleased to have lent a hand in the creation of this minimalist stand for an innovative design organisation with a strong passion for UK quality. The artworks were printed by dye sublimation which is a process where heat is used to transfer dye onto materials such as plastic, card, paper and fabric. This method enables complete customisation and can be quick to produce, meaning we print on demand reducing waste. Dye sublimation also has a fairly consistent cost to print 1 item or 1000. This means minimum orders rarely apply, as they may in other printing circumstances, hence it can be easily applied to only a few prints without creating huge costs.
Urban Front
Who are Urban Front? They are designers and manufacturers of contemporary steel reinforced doors. All made in England from only the best natural hardwoods. These specialists manufacture steel reinforced doors, pivot doors, garage doors and insulated doors – a broad spectrum
Designer Elizabeth summarised "Through continuous innovation and design, urban front crafts beautiful natural hardwood doors, for customers around the world who appreciate the finest in life."
Read more at http://www.urbanfront.co.uk/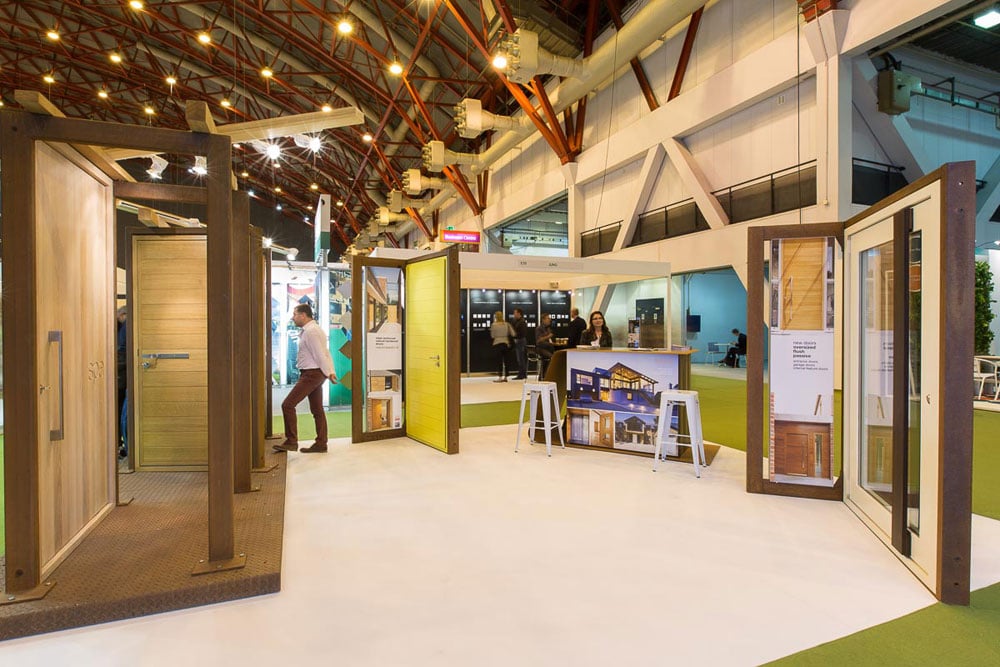 Get in touch
If you're interested in learning more about our event and exhibition solutions, please get in touch with our sales team today on the link below for a friendly chat.