Emily brings a positive energy into the workplace and always knows how to make her colleagues smile. Since joining banner Box in 2021, Emily has proven to be an extremely popular member of the team and delivers a first-class finish on our products 100% of the time.
Take some time to get to know Emily a little better with our 10 fun questions.
Describe yourself in five words:
• Funny
• Quirky
• Friendly
• Blunt
• Creative
What is your most-used emoji?
I don't even need to think about this one…. Black heart!
What is your favourite movie/TV show of all time:
I love a good movie, one film I will always come back to is the all-time great, Labrynth.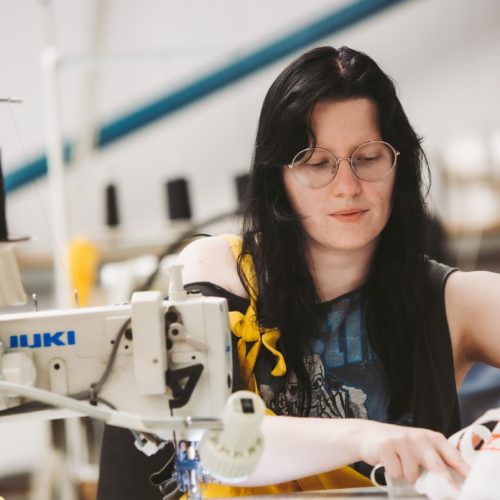 Which TV or Movie Character Do You Identify With & Why?
Lagertha from Vikings, because she's a bad @&$! Next time you're stuck for a series to binge on, I would highly recommend you give Vikings a go!
Do You Have Any Pets?
None at the moment, but in the future I'd love a sphynx cat and a golden retriever.
What is Your Go-To Karaoke Song?
I'm not shy to grab the mic on a night out. I will give anything a go, but will always come back to "Down With The Sickness" – By Disturbed
What is your favourite food or drink?
Coffee by day, Mexican by night. When it comes to coffee, I love trying obscure speciality blends. As for Mexican food, it's got to be refried beans, yummy!
How do you spend your time away from the office?
I am always busy doing something and seeking out new experiences. I spend a lot of time watching indie wrestling with my boyfriend… we even like to try out some of the moves in the gym!
If money wasn't a factor, what would your dream holiday be?
Japan, there is something quite magical about their culture that I have always wanted to explore.
What's your favourite place in the world?
I love to travel whenever possible. I would have to say my #1 spot to date is Joshua Tree National Park, California. I went with my partner last year and it was absolutely stunning. I am already planning my next trip and I could definitely see myself living there in the future.