As we reach the mid-way point of the summer holidays, the educational sector begins to prepare for the start of another school year.
Whether for directional or decoration purposes, schools, colleges and universities alike can all greatly benefit from the effective use of large format print and hardware. We've collated a selection of our products most commonly used within the educational to create a "back to school" product range, which can be viewed below. If you have any questions or queries, be sure to contact our team of print experts today.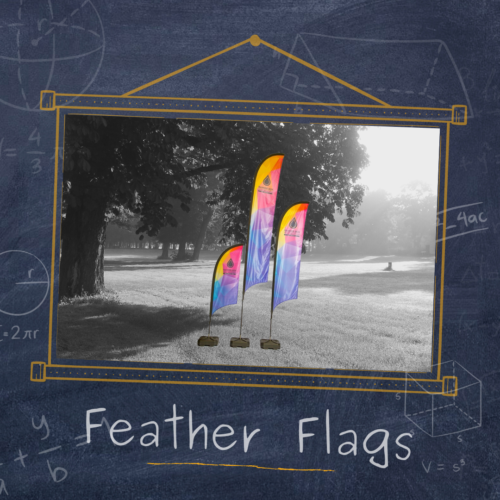 Feather flags
A popular display solution for educational sector. They provide an extremely cost-effective method of displaying impactful visuals across a wide variety of locations… Perfect for  helping new starters familiarise themselves with locations during the first few weeks of term!
Each system comes with a full colour printed flag, high quality sectional fibreglass pole, a durable carry bag, and a choice of suitable base option.  All Banner Box feather flags are compatible with 3 base options, allowing the flags to be used on hard or soft ground, or indoors.
Banner Frames
Our selection of 4 types of outdoor banner frames offer a high quality display solution which can be used in a variety of locations within schools, colleges and universities.
Heavy Duty Banner Frames –  an attractive, modern, and robust solution. Suitable for use on soft ground and surfaces and a high quality product to install fabric or PVC banners.
Standard Duty Banner Frames – one of our most popular outdoor display products. A versatile and easy-to-assemble solution to display your bespoke banners in a variety of sizes.
Double Sided Banner Frames – offer maximum visibility from all angles with banners fitted to both sides of the frame for extra impact.
Maxi Banner Frames offer the ultimate heavy duty display, often used when required over a prolonged period of time without the need to create fixed signage.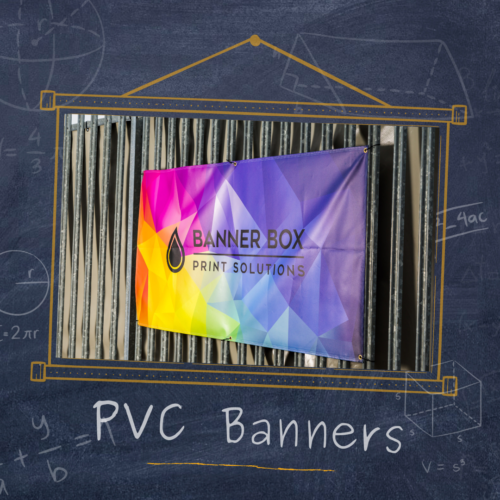 PVC Banners
PVC banners are a cost lightweight, durable cost effective way to display your message and can often be found attached to perimeter fencing to communicate a message to pupils and parents.
We offer two grades of PVC material for our banners.  Our Premium 560gsm PVC is coated creating a smooth surface on one side for single sided applications and front-lit solutions.
Roller Banners
Our high-quality retractable pull up roller banners are a great way to convey a message in high footfall areas such as receptions, atriums and corridors.
We have two systems to choose from – our EveryDay system and our Premium system.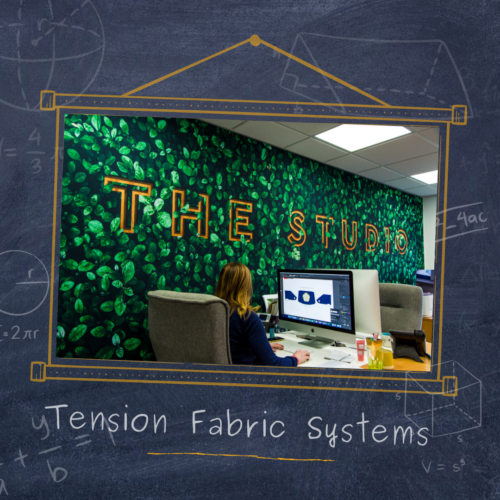 Tension Fabric Systems
Our Wall Mounted Fabric Tension Display Systems are a unique family of aluminium display frames, perfect for creating a scene in a classroom corridor or community area.
The aluminium wall profiles are designed to be used with graphics that are push fitted into a thin recess.  Fit your frame once and easily update your graphics, allowing you to change the aesthetics of the environment as little or often as you like.
All frames are bespoke and can be made to any size to suit your requirements.
Printed Tablecloths
The start of the academic year in colleges and in particular universities often sees many small events and open days, with table top displays and registrations rife!
Personalise your organisation's tables with our range of bespoke digitally printed tablecloths and turn your boring tables into a colour coordinated triumph!
Tablecloths are digitally printed onto our very versatile and flame retardant Decotex material, which is machine washable allowing for repeated use.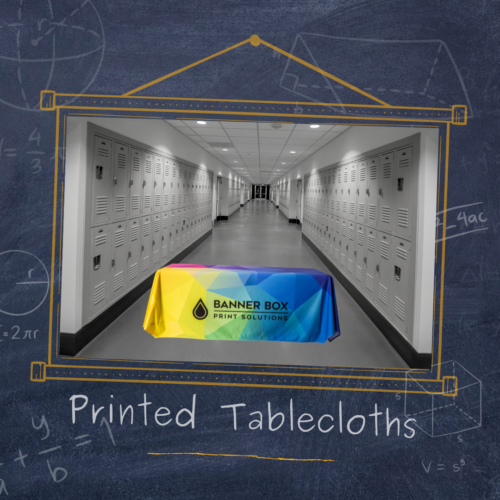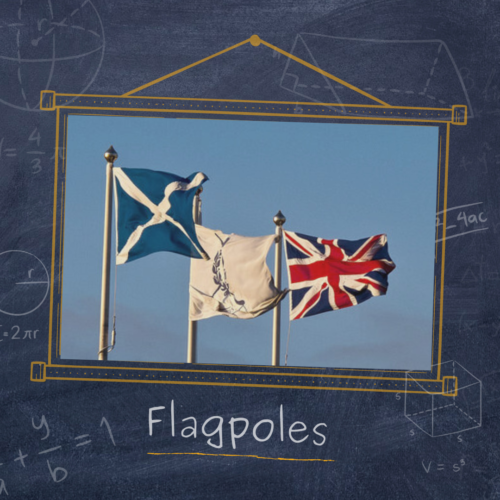 Flagpoles
Flagpoles are a popular product throughout the educational sector, allowing institutions to display their very own custom flag with pride.
At Banner Box we support every step of your flagpole installation from our initial site visit and assessment of your requirements to design, manufacture, installation, maintenance and servicing.
Got a question? We'd love to hear from you! Ask about our flagpole design, manufacture and installation here
Got A Project In Mind?
If you have any questions or want to discuss your bespoke requirements, get in touch with your Account Manager.
Here at Banner Box, we are always ready to help make your print project a reality.