With outdoor events thriving during summer months, we thought we'd share our most popular "summer-time" products with you. Whether used for advertising an event, controlling crowds or dressing a location, large format print has an essential role to play in any event.
Browse our summer print essentials range below and contact our sales team today if you have any questions – 01246 472 949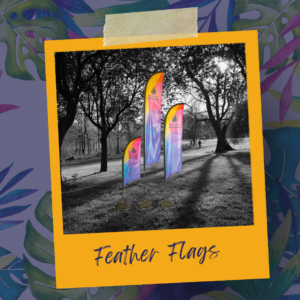 Feather Flags
Feather flags have gained significant popularity as a favoured display solution among businesses spanning diverse sectors and industries. They offer a remarkably cost-effective approach to showcasing visually striking graphics in numerous settings.
Every feather flag system comprises a vibrant, full-color printed flag, a top-notch sectional fiberglass pole, a robust carry bag, and a selection of suitable base options. The feather flags from Banner Box are designed to be compatible with three base options, enabling their utilisation on various terrains, be it hard or soft ground, or even indoors.
Banner Frames
We offer a selection of four outstanding outdoor banner frames that provide a superior advertising solution;
Heavy Duty Banner Frames – not only attractive and modern but also robust. It is designed to withstand various conditions and is suitable for use on soft ground and surfaces. With its high-quality construction, this product ensures seamless installation of fabric or PVC banners.
Standard Duty Banner Frames – renowned for its versatility and ease of assembly. This solution offers a seamless way to showcase your custom banners, available in a wide range of sizes, making it suitable for diverse display needs.
Double Sided Banner Frames – unparalleled visibility from every angle with our innovative solution that features banners fitted on both sides of the frame, amplifying the overall impact.
Maxi Banner Frames – the ultimate heavy-duty display solution that eliminates the need for permanent signage. Provides a robust and durable display option, capable of withstanding demanding conditions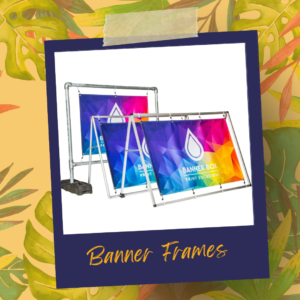 Café Barriers
Experience the versatility and professionalism of our café barrier systems, designed to effortlessly create designated routes, layouts, and protected areas. Whether you're looking to establish clear pathways or define specific zones, our café barrier systems are the ideal solution.
Explore our range of café barrier systems to find the one that suits your needs best. To further assist you, we offer an exclusive Café Barrier Blog Series that provides valuable insights into the do's and don'ts of placing your order, ensuring a seamless experience from start to finish.
Festival Flags
No matter if you're an exhibiting business, a fundraising charity, or an enthusiastic festival goer seeking to stand out from the crowd, our custom-made festival flags are uniquely designed to capture attention and reflect your personality or organisation. These quirky flags provide the perfect opportunity to showcase your distinctiveness and make a memorable statement.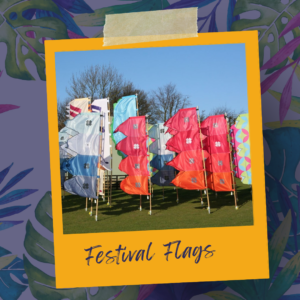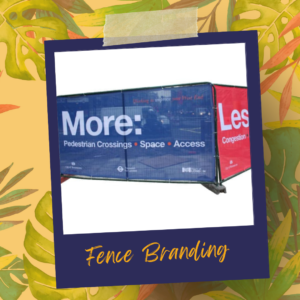 Fence Branding
When it comes to outdoor events, an often overlooked area when it comes to print and decoration is crowd control. Whether using a fence, barrier or hoarding, it present a perfect opportunity for advertising and adding colour to the scene. Check out our options below;
Advertising Hoarding – an imaginative and powerful advertising choice, offering a visual impact.
Crowd Barrier Jackets –  Can be single or double-sided and are available to suit all barrier types and sizes. We offer a fitted or sleeve version.
Heras Fencing Scrim – frequently used in the construction industry and at events to connect and hide areas from view and is a cost effective way to display advertising.
Pop Up Gazebos
The ultimate promotional tool for creating a captivating focus and effectively marketing your brand or company.
Crafted with flame retardant and highly durable polyurethane coated polyester and PVC, both the canopy and side walls ensure long-lasting performance. Take advantage of our wide range of stock colour options or opt for our dye sublimation printing, allowing you to perfectly match your corporate colours and logos with pantone precision. With our Pop Up Gazebos, you can elevate your branding efforts to new heights.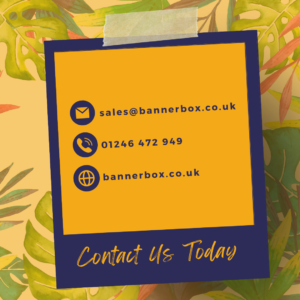 Got A Project In Mind?
At Banner Box, we take pride in our commitment to bringing your print project to life. We are dedicated to providing assistance and support every step of the way, ensuring that your vision becomes a reality. Don't hesitate to get in touch with us; we're here to help!